FYI…this is a complete/comprehensive guide for a beginner. If you have some website experience you may want to start with the…
Background Info to Help You Get Started
If you listen to our show, Simple Life Together, then you know that a big part of designing a simple life for ourselves and our family has been creating work that we can do from home. Vanessa and I are both self employed, we choose who we want to work with based on our values, and we determine what our work schedule is. This is essential to creating balance in our lives. You are likely looking for that same kind of balance in your life, too! Some people are very content to work for others. People like you and Vanessa and me are not. That's fine…it takes all different kinds of people to make the world go around.
But before we start, just know that it takes a LOT of work to work for yourself. If it's something you've absolutely decided to do then that's great! Go for it! But, candidly, it took us a long time working in "normal" careers to support us getting started on our own. If anyone or any website tries to sell you a lifestyle line and promises it to be easy…RUN! It's not easy. Some of the best advice I got was from Dan Miller, author of the best selling book 48 Days to the Work You Love. I listened to his podcasts and studied what he had to say. Often, he'd advise people to "start doing something on the side" and grow that side business (often called a "side gig") until you think it can support you. The most important piece of advice I got was to "bootstrap" your business, meaning start with your own money and start without going into loads of debt. I know, I know, you're probably so motivated to start at this point that you want jump right in. But, just like we talk about on Simple Life Together all the time regarding consumerism, sometimes patience helps you realize what you really need to get started versus what you want to get started.
So, whatever the "side gig" is that you're ready to start, you'll probably want to build a website to reach your audience. And if you've never dealt with websites before you know that can be both costly and intimidating for new business owners. So, since we're all about trying to make life more simple, we thought we'd put together this little guide to help you not only get your site up and running for your business, but help you save some money while you're at it! The guide and all the information in it is absolutely free and our gift to you. We'd only ask that you consider using some of the links that we researched and provided for you in this guide. Why? Because if you do use them, not only do you get a great price on the goods or services, but we get a small commission from the providers that doesn't cost you one cent extra!  So, it's simplicity all around…you get a complete "How To" guide packed with information that was going to be offered to my clients for $37.99…FOR FREE…great pricing from companies that we've vetted and use ourselves, it costs you nothing extra, and those companies pay us a small commission. Everybody wins!
So let's get started! But first, a super quick little glossary seems in order. I use these terms a lot throughout the guide so let me just define them in my own words here:
Domain- Also known as a URL or website address. A "domain name" is your website name.  For instance, Google's domain name is google.com. The web address is http://google.com
Hosting- Very simply put, hosting is the service where your site is "hosted."  What that means is, somewhere there is a computer server that is connected to the internet where your site and its files reside. When people visit your site they're visiting it on your host's server versus on your computer. Your website has to be hosted somewhere.
Search engines- Search engines are programs that search documents for specified keywords (you know, the words you type into your search bar?) and return a list of the documents where the keywords were found.
Functionality- Just think of this is your site's ability to do different things. Do you want your site to be able to block spam? Do you want your site to have those little "share on Facebook and Twitter" buttons? Well, there are things called "plugins" that let you site do this…they give it additional "functionality."
Theme- Basically, a "theme" gives your website a certain look and usability. Based on the theme that's chosen, sites may have varying usability, and yes, "functionality," too.  There's that word again… The cool thing is you can change themes in WordPress pretty easily. More on that later…
Introduction
Let face it, just like all people are not inherently into simplicity, many of those who are probably wouldn't consider themselves "techies."  But in today's world, technology plays a major role in the success of your lifestyle business.  Tech stuff is probably one of those things you've been telling yourself you need to get better at.  The problem is, a lot of it seems so confusing and complicated.  Besides, you're busy and can't handle it all, right?  Well, this guide might be exactly what you need!
So, welcome! Take your time with each Module. At the risk of sounding too repetitive, we want your feedback, your questions, and want to help you fill any "information gaps" you may discover as you progress through your business's start up.  Let us know how we can help!  Getting your business going is tough work! The goal of this guide is to help simplify what can certainly be a confusing time filled with conflicting information.  So, let us know how we can help and how we can make the guide better for you! We certainly don't know everything but if you aren't sure about something then there are probably lots of other folks out there in the same boat as you.  And for us that's an opportunity to help!
Getting Started:  There are a few critical steps that everyone needs to take when starting their online presence (also called a "platform") and we're going to break each one down, making it easy to understand and as easy as possible to execute.  Once you complete this guide you'll definitely have the knowledge it takes to make an informed decision about your home on the web.  Finally, you'll have some options.  Once you complete this course you'll be able to choose one or a mix of the following:
Handle all the tech yourself, armed with this newfound understanding of it all!
Hire-out some of the more complex tasks but maintain and grow your site 
yourself, taking it to the next level
or
You may decide business is far too busy to do it all yourself and opt to hire someone to do all the tech "dirty work" for you…but now you'll understand and  be able to make informed decisions
Whichever option you choose you can rest assured knowing that at least now you'll be familiar with all the ins and outs of your online presence, the buzzwords, and the work involved with setting it all up, and you won't be left with that queasy feeling…you know, like the one you get sometimes when you drop your car off at the mechanic; that helpless "I'm at your mercy" feeling? Nope!  Not any more!
So, here's what we'll cover:
Module 1: Creating a Website for Your Lifestyle Business
Module 2: Choosing a Domain Name
Module 3: Choosing a Hosting Provider
Module 4: Which Website Platform to Use
Module 5: Giving Your Site More Functionality
Module 6: Getting Creative with Your Brand (logos, headers, print materials, promotional merchandise, etc)
Module 7: Tapping the Power of Social Media
Course Summary
There you have it!  That's the course outline. It helps to go through these modules in order, but each one can really stand on its own, so if you want to skip around a bit feel free.  You may find yourself coming back to them from time to time just to sharpen your skills.  Oh, and if you have questions along the way feel free to contact us here at SimpleLifeTogether.com. All our contact info is in the sidebar.
In Module 1 you'll learn the basics about types of websites you can use for your new business. Enjoy!
Module 1:  Creating a Website for Your Organizing Business
Overview: Hi, and welcome to Module 1, Creating a Website for Your Organizing Business. In this module we'll discuss the importance of your website in today's business world, you'll learn the basics about types of websites you can use for your business, both free and paid websites. We'll cover the advantages and disadvantages of each, and highlight some things to consider to help you decide what works best for you.  So let's get started.
Here's a very simplified graphic of how the the internet works with regard to the subjects we'll be addressing here, specifically, registering your domain and hosting.  We'll be defining these terms as we go along but hopefully this graphic gives you a basic understanding of these techie sounding terms in case they are new to you.  If you understand even just these basics, you're WAY ahead of most people! So here goes:
Websites, Domain Names and Hosting Working Together

Unlike many traditional businesses that require a storefront, lifestyle business can operate "virtually" (just on the web) or out of your home office or garage (or in our case…the "World Shedquarters"…an office shed located just 19 steps from our back door).  Therefore, your website is essentially your business's "home." Just as you would take an active role to make sure your storefront reflected a professional appearance, your website is no different.
Luckily, you'll be able to avoid the huge costs most fledgling businesses face when opening up a traditional "bricks and mortar" store.  But, that doesn't mean you should skimp too much on your website. The best thing is, you have lots of options when it comes to your online presence.
One of your first decisions will be whether to use a "free" website option or to host your own site.  If you're new to websites, this alone can be really confusing!!!! So, let's go over some of the basics so you can make an informed business decision.
Here is a graphic on the pros and cons of both Free and Paid websites so you can compare, then we'll break it down a bit further: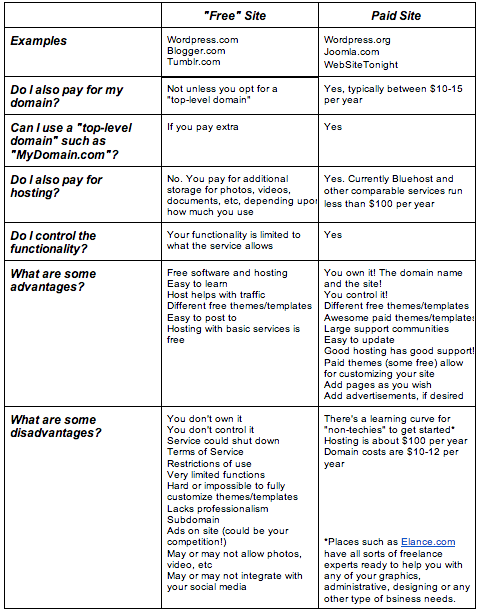 So, as you can see, each option, both Free and Paid have advantages and disadvantages.  But here's what we recommend: Take a hard look at your long term goals.  If you're starting a lifestyle business that you hope to build into a thriving operation that not only helps clients simplify their lives but is also profitable for you and your employees, you'd be selling the business short if you went for a free option.  Not only will you be at the mercy of the limitations of the free platform you use, in most cases you won't even own your own content once it's posted! The various Terms of Service can literally hold your business hostage.  Here's an excerpt from WordPress.com's Terms of Service (highlights added for emphasis):
By submitting Content to Automattic for inclusion on your Website, you grant Automattic a world-wide, royalty-free, and non-exclusive license to reproduce, modify, adapt and publish the Content solely for the purpose of displaying, distributing and promoting your blog. If you delete Content, Automattic will use reasonable efforts to remove it from the Website, but you acknowledge that caching or references to the Content may not be made immediately unavailable.
Without limiting any of those representations or warranties, Automattic has the right (though not the obligation) to, in Automattic's sole discretion (i) refuse or remove any content that, in Automattic's reasonable opinion, violates any Automattic policy or is in any way harmful or objectionable, or (ii) terminate or deny access to and use of the Website to any individual or entity for any reason, in Automattic's sole discretion. Automattic will have no obligation to provide a refund of any amounts previously paid.
Remember when your parents used to say "our house, our rules!"  Well, same thing goes with free hosting sites. In this case, you get what you pay for.  Free sites also limit what type and sizes of media you can upload.  If this is the case they usually also offer an "upgrade" option so you can purchase additional space.
None of these negatives are said to scare you.  If you have no other options at this point and free is the only way to go, then go for it!  But set a goal to completely own your site. "Freemium" services (those that start out free and get you to upgrade later) come and go.  Some make it difficult to migrate your content once it is on their platform.  So, the sooner you own your site lock, stock, and barrel, the better off you'll be.
Another thing to consider is your website traffic on a free site. People are used to visiting what are known as "top level domains".  A top level domain is simply the website name followed by ".com", ".net" or some other identifier (such as ".ca" for Canada, or ".uk" for the United Kingdom, etc). For our example of a top level domain we'll use "MyDomain.com".  On a free site, your website name will be what's called a subdomain.  This means that instead of your domain being something like "MyDomain.com" it is "MyDomain.wordpress.com" or "MyDomain.blogspot.com.  You don't truly "own" your traffic, your free hosting does.  That's probably not how you want to run a viable business.  Once again, if you're getting into your "side gig" as more of a hobby than a business, then free platforms such as WordPress.com, Blogger.com, and Tumblr.com may be just for you. You CAN use your own top level domain on some "free" site, but for an annual or monthly charge. That's why I put quotation marks around "free".
Note:  Even if you decide to go the FREE route, check to see if the name you choose for your free site is also available as a top-level domain as well.  As a minimum, we recommend you buy that top-level domain to avoid confusion later on.
So now let's look at paid platforms.  With paid platforms, you own your content, your domain name, and control your hosting (your site is hosted on a server. You pay "Hosting Company" to host your site. We'll discuss more about hosting in Module 3). With a paid platform, your site is your professional connection to the world via the internet and you can change it, improve it, and tweak it to your heart's content.  You can add functionality to your self-hosted site that can make money for you while you sleep through affiliate relationships (we're considering putting together a Simple Life Together™ Guide to Advanced Online Essentials…coming soon if there is demand). It is the target that you direct people to from other places you are on the web, such as Facebook, Linkedin, Twitter, Pinterest, etc. Your paid site will be what you list on business cards and other print material.  Yes, good paid platforms will cost money.  Figure about $200 or less for your first year (less if you go through our Bluehost Affiliate link), which includes your domain name, hosting, and even a premium theme. In follow-on years it will be much less and shouldn't exceed $125. Compare that to having to pay for a physical storefront!
Module 1 recap:  In this module we discussed how important your website is for your new business. You learned the two basic types of websites, both free and paid.  There are advantages and disadvantages to each, but now you know what those are and how they can affect the level of flexibility you have with your site.
So, we'll leave you with some additional thoughts to help you decide what is right for you and what is right for your business.
Be sure give your web platform some serious thought.  Consider your goals; personally and professionally.  Be true to yourself and decide how much time and effort you are going to dedicate to this new adventure. If you're really not sure, start out using a free option and then transfer over to a professional/paid option. Sure, you miss out on the autonomy of owning your own web presence, but if you're really not sure or fully committed yet then this may be the option for you.  If you know you're committed to developing your lifestyle business and can handle the cost and responsibility of maintaining your own professional site, then go for it! And we'll help you get started in our next module.
So, to recap…here's a little matrix to help you decide.

Module 2, Choosing a Domain Name, is up next!  It's hard to emphasize how important your domain name can be. Many times, your domain name will be how people identify you even before they know your name!  So…get ready to learn all the ins and outs of your choosing a good domain name.  See you in Module 2!
Module 2: Choosing a Domain Name
You've heard the line "a rose by any other name would smell as sweet"? Well, when it comes to the name of your website, Mr. Shakespeare might be a little off.
Overview: Welcome to Module 2, Choosing a Domain Name. In this module we'll discuss the two "schools of thought" when picking your domain name, some things to avoid, and we'll even cover a few basics of what is known as SEO or Search Engine Optimization.  Maybe you already have a name picked out for your site, maybe not.  Either way, you're bound to pick up a few time and effort-saving tips in this module.  So, let's get going…
So what is a domain name? A "domain name" is your website name.  For instance, Google's domain name is google.com. You also hear it referred to as your "URL" short for Universal Resource Locator.  But lets just stick with "domain name" or "website name" and we'll use those interchangeably.
There are two distinct schools of thought on this topic of choosing a domain name.  You can be very creative and pick a name such as "Google" that is your brand and has nothing whatever to do with who you are or what you provide, but is "catchy", or you can choose a domain name that's descriptive, letting prospective customers know either who you are, what you do, the results you give them, etc.   If you're just starting out this really helps. Here's an example: is there any doubt in your mind what type of business you'll read about at WeBuyUglyHouses.com?
What do we at SimpleLifeTogether.com recommend?  When it comes to domain names, you don't want to get too "creative"…it will cost web traffic in the long run and that equates to fewer clients and less money.  Unless you have a market segment cornered, it's tough to get away with a name like Google!  Remember, your website will be on all your promotional items (business cards, stationery, advertisements, etc), so ideally your domain name is the same as your business name, too.
If you have some time and are a visual person, here's a quick YouTube video from Matt Cutts, Google's own King of Search and SEO, who explains both options when it comes to selecting a domain name. 

Your domain name can also affect how you rank in search engines such as Google, Yahoo, and Bing. You've likely heard the term SEO, which stands for Search Engine Optimization.  SEO is important because the higher your site ranks in a search engine for specific keywords or phrases, the more likely you are to get people clicking through to your website. This is called "traffic". If your website is optimized, potential clients are more likely to find your site when they search for certain terms.  These certain terms are called "keywords". You know how you can get a pretty good idea whether a restaurant is worth eating in by the number of cars you see there at mealtime, right?  Well, search engines use the same technique!  The more people that go to a site the better they think it is!  Search engines try to be "pleasers"…they want to send people where people want to go and the only way they have an idea of how to do that is by what people type into the search bar.
The bottom line on SEO is that search engines  are programs and machines…they don't read like you and I do.  For instance:
Judy has a passion for organizing and has decided that she wants to help others as a professional organizer.  She decides she's going to name her business Judy's Passion and registers the website JudysPassion.com.  She gets a few hits occasionally, mostly from friends and family though.  She's not sure where she went wrong. Could Judy's site still become successful?  Of course it could, but she'll have to work hard on her website to fill it with some rockin' content that people are eager to share!
You see, based on domain name alone, search engines will have a hard time figuring out that Judy is a professional organizer.  Sure, after she loads a bunch of content (articles, products, a good "About" page, etc, search engines will pick up on keywords such as "organize, organizing, organized" and others that will help because those are words that potential customers search for!  But it really helps to start out with a good, solid domain name that already includes some of the keywords. Remember, the dream job for every search engine is to be a matchmaker!  Help them out and they'll help you out!
With all this in mind, here are a few more tips when deciding on a domain name:
No need to worry about capitalization...search engines don't differentiate between upper- and lower-case.  Therefore, you can use capitalization in your promotional items if it helps to highlight your business name without having to worry about having it match your domain name.
Is the perfect domain name you want already taken?  Try prepending it by adding "my", "the", or "your" at the beginning of the domain, as applicable.  Does it still make sense?  For exampe, "professionalorganizer.com" is already taken, but maybe "yourprofessionalorganizer.com" is available. Maybe now you can have an "almost perfect" domain after all!
The less confusion there is about your domain name the better off you will be.
If possible your domain name should match your business name.
Try to stick to ".com" domains if possible.  For business purposes, .com domains are the industry standard and .net should only be used if the domain you want is not available in .com.  If both are available, buy both!  That will alleviate any confusion between websites if someone else decides to open a website or business using the domain you didn't buy, should it be the same as your site's name.
Avoid made up or hybrid names (two names/terms combined).  People don't often search for these names and it'll seriously degrade your search traffic. Trust us, few things can be more frustrating than being a business owner and nobody "gets" your name but you! We ran into that with one of our businesses. It still was successful, but it took a LOT more work and still confuses people to this day. We're just too far along to change the branding now. Ugh! Don't make that mistake!
Avoid hyphenated names. While search engines don't necessarily penalize you for hyphens, people will likely forget to type those in and have a good chance of ending up on your competitor's site.  What's worse, is every time you give someone your website you'll have to be careful to say "whatever-hyphen-whatever.com".
Numbers in domain names are confusing.  As in hybrid names and hyphens, numbers throw off prospective clients, too.  "iOrganize4U.com" is cute…but good luck with your web traffic!
These are just some of the very basics to get you started.  But even these basics can save you countless hours of effort and thousands in lost clientele income over the life of your business.  There is a saying in the online world that "Content is King" (meaning the articles, blog posts, videos, etc, that you produce on your website) and "SEO is Queen". Well, we all know what happens if the Queen gets ignored, don't we!
Down the road when your website is up and running you'll be looking to really kick things up to the next level. We're considering putting out a Simple Life Guide to SEO Essentials focused on the down and dirty of SEO. No whiz-bag trick here, just smart, commonly overlooked fundamentals of solid search engine optimization. If you're interested, we'd like to know…
If you don't have a website yet, you could go to GoDaddy.com to see if the domain name you want is available. Candidly, we do all our domain name SEARCHING at GoDaddy, but we buy them on Bluehost because that's where we host our account and if you host with Bluehost now they'll give you a free domain name. Bonus!
Module 2 Recap:  Well, that's the end of module 2.  In this module we discussed the two "schools of thought" when picking your domain name, the "Keyword Rich" domain and the "Branded" domain, some domain mistakes that you should avoid, and we just touched the surface on a popular concept known as Search Engine Optimization or SEO.  While we only covered SEO basics, now you should have an idea of how a search engine "sees" things on your site and how that differs from the way people (specifically your clients) think.
So, do you feel a little bit smarter about domain names now?  I hope so!  If you take nothing else away from this entire course, just getting the right domain name selected will give you an advantage over your competition and you won't have to spend countless hours making up for the "not-so-great website name" you might have chosen if you didn't know any better. It's like that age old question, "If a tree falls in the woods and no one is there to hear it, does it still make a sound?" Well, think of your website the same way…you can load your site with great content but if no one goes there because search engines don't think it's relevant, is it doing you any good?  So now you know some of the things you can do to give you an advantage.  These things will help Google and other search engines find you so that people can hear your "online voice', aka your website. And that, my friends, will help turn "potential clients" into clients well served!
Wow!  We're only at the end of Module 2 and already you're starting to get the hang of all this "tech stuff"!  It won't be long and you'll be ready to fly solo!
Coming up next is Module 3: Choosing a Hosting Provider.  You may not even be sure what "hosting" is right now but don't worry, you will by the end of the next module!
Module 3: Choosing a Hosting Provider
Overview: Well, you made it to Module 3, Choosing a Hosting Provider. Module 3 is shorter than previous modules, but don't let that leave you thinking that selecting your hosting provider isn't an important decision.  We'll discuss some things you should consider and we'll also leave you with our recommendation, who happens to be the hosting provider we at SimpleLifeTogether.com use. Remember, you have options, so by the end of this module you'll be able to decide the hosting provider that's best for you.
OK, so what the heck is "hosting"?  Very simply put, hosting is the service where your site is "hosted."  What that means is, somewhere there is a computer server that is connected to the internet where your site and its files reside. When people visit your site they're visiting it on your host's server versus on your computer.
There are many hosting providers to choose from.  If you have someone who is developing your site for you then they likely have a provider that they prefer to use.  Expect to pay between $100 and $150 a year for what is known as "shared hosting", where one server may host many websites and are optimized for that purpose. If your website "takes off" and you get massive amounts of visitors per day then you should likely talk to your hosting provider to upgrade to dedicated hosting.  It's more expensive, but tons of traffic is a good problem to have!  If your developer has a company they use then it's probably best to go along with their decision…they are most likely familiar with their hosting company of choice, the service they provide, the quality of their customer service and how to navigate the the host's website.
Here are some key things to compare when shopping for a hosting service:
Ability to purchase your domain through them.  Registering your domain is not a major expense.  Plan on spending between $10-15 on a standard ".com" domain.  You select the length of your registration period, but the standard default length is 1 year.  Your host should also give you the option to select "automatically renew".  This can be helpful and guarantees your domain doesn't lapse.
You may also want to check to see the amount of storage space that is available on their hosting plans.  Ideally, the host you choose should offer "unlimited" storage which will give you some room to grow.
Also important is bandwidth.  The more visitors there are to your site the more bandwidth your site will use.  Like storage space, ideally your host offers "unlimited" bandwidth. If you choose a host with bandwidth limitations and you're lucky enough to have one of your articles or blog posts go "viral" (meaning you get an enormous amount of visitors in a short period of time), your host will most likely attempt to contact you and ask you to upgrade your plan or simply shut your site down.  That would be bad…you write some great content, people are swarming to read it, and your host shuts you down…
You may also want to see if your host provides email through their service so you can send/receive email from your new domain (me@SimpleAwesomeLifestyleBusiness.com). A domain-based email address goes a long way towards establishing credibility and reputation as a business.
Hands down the number one thing to look for in a hosting service is their level of customer service.  It should be plain on their site that they provide 24/7 support, ideally via a phone number.  Live chat is another option, too.  If you have just a quick question that you need to ask an expert, live chat is usually the fastest way to do it.
We host all of the SimpleLifeTogether.com website on Bluehost. As I wrote this guide I had 49 domains on one hosting account, all for $6.95 per month! With Bluehost you get unlimited domain hosting, one free domain name, plus free Google credit (as this course goes live Bluehost gives you $100 in Google credit...not bad huh?)  So, when it comes time to try some advertising with Google AdWords you can experiment with free Google credit instead of your own hard-earned cash! You can learn more by searching Google for "Goggle AdWords". We'll talk about it further in a Simple Life Guide to SEO Essentials if there is an interest in that guide.
Like we mentioned earlier, we are affiliates for Bluehost  which means if you choose to use these services through our exclusive links we are compensated for referring you but it doesn't cost you a penny more. The reason we chose to become affiliates is because we actually use these services and can recommend them through experience!  That said, you really do have so many good hosting choices available so feel free to shop around.  As you shop around you'll naturally look at your monthly hosting costs, but don't forget to compare all of the things we listed above, as well.
Another reason we like Bluehost is that they don't host pornographic sites. Beyond a morals/values issue, it's a bandwidth issue as well…just so you know.
Recap: That's it for Module 3.  Now you should have a good idea what hosting is and what to look for as you make your decision on who you want to have host your site.  Remember, you have lots of options. Bluehost  is our host of choice but there may be another option that suits you better.  Your website needs a home, and the right host will be the difference between a site that's always available and a site that tends to crash now and again. Ever try to navigate to a site that takes FOREVER to load?  Sure you have, we all have. If you're like most people you opted to click away and go somewhere else on the web to a different site.  Well, you certainly don't want your site to be the one that people are clicking away from!  The right host can go a long way to ensuring fast "load times".
Another thing that can affect your load times is the type of web platform that you decide to use.  What's a "web platform" you ask?  Well you'll find out next in Module 4:  Choosing a Web Platform.  See you in the next lesson!
Module 4: Which Website Platform to Use
Overview: So now you have a solid understanding of the difference between paid and free websites.  You've probably given some thought to your domain name, or maybe you've already chosen it.  You know all the things to check before you select a hosting provider.  Now it's time to choose the platform you will use for your website.  Module 4 is a longer module than the others, but which web platform you use is really the meat and potatoes (or the tofu and potatoes if you're a vegetarian) of how you'll interact and update your website.  We'll discuss a couple of common concerns we hear from others, discuss blogging and how it relates to your site, introduce you to our Content Management System of choice, how to get your initial site up and running, and discuss ways to customize your site to your heart's content.  Pay close attention to this module and refer back to it often.  This module alone will cut an incredible amount of time from your learning curve and is easily worth double the price of this entire course (of course…if you're a Simple Life Together listener then you get it for FREE!).  We'll also include a link where you can download a free bonus checklist to make sure you keep on track when getting your site up and running.  So let's get started!
If you have any experience with setting up websites then you likely already have a platform of choice, be it coded with  HTML, PHP, or a Joomla, WordPress, or aready-made "fill in the blank" website, or any of the other options available.  Likewise, if you plan to have a developer produce a website for you, he or she likely has a preferred platform that they are already comfortable with  and will use that to develop your site.
The main thing to consider regarding the platform you choose to use is whether or not you plan to maintain and update your site yourself, or do you plan to outsource maintenance and updates to your developer.  By far, these are the two things I continue to hear from my clients and their websites:
1- "I'm tired of constantly paying someone to make little changes to my site", and
2- "I'm waiting for my website guy to fix this but he's swamped and I'm not one of his major clients."
Likely, you've heard people you know say either or both of these.  Well, with a little bit of effort up front, you won't have to be held hostage by your "website guy" any longer. There are very low-cost and straightforward ways you can do all, or most, of website tasks on your own.
You are also likely wondering about blogging on your website. Chances are if you have to pay someone to maintain your website for you then you're not very likely to use the blogging features either. You may not be exactly sure what blogging is so let's take some time to explain it. The term blog is short for "web log". Back in the early days of the World Wide Web (the late 1990s) blogs were mostly online diaries or very specific subject related websites.  Not any more!  Today, most major businesses and corporations have blogs, just as many smaller businesses do (actually "blog" has become synonymous with website in most respects).
Your blog opens up lines of communications with your followers, which are potential clients!  Typically, your blog is a series of entries or articles called "posts" in reverse-chronological order so that your most recent post appears at the top of your site (blog).  Look at many reputable companies and likely you'll see an active blog as a way for them to build their community, share ideas, interact, and, yes, even advertise! It's a great way to gather a community around your full-time or "side" gig.
WordPress
As we just mentioned, you can really use "blog" and "website" interchangeably these days.  Better yet, both your business' site and blog can exist on the same platform…a platform called a Content Management System (or CMS for short) that you (even if you're not a major tech geek) can update and maintain!  Now you (yes, you) can post to and update your online presence without being at the mercy of your "web guy". And the platform of choice for us here at Simple Life Together is WordPress! Just to clarify, we're NOT talking about the WordPress.com platform we mentioned back in Module 1!  We're talking about WordPress.org, the free, open source software that companies like Sony, The Wall Street Journal, CNN, People Magazine and others use as their platform.
The whole "Wordpress thing" can be confusing because there are two types of WordPress: WordPress.com and WordPress.org (like we discussed back in Module 1, it's the difference between having a subdomain; SimpleLifeTogether@wordpress.com…or your own domain; SimpleLifeTogether.com). Here's more of a breakdown of the two:
WordPress.com is a free service up front but they make their money by placing advertising on your site, charging you to use your "top level domain", charging you for extra storage, charging you to remove ads, charging for premium themes, etc.  This is known as a "freemium" model…free up front, charge to give you more functionality. You won't know your annual costs until you figure out how much storage space, functionality, etc. that you need.
WordPress.org is free software that you can use on your site which is hosted on a server with a hosting company such as Bluehost.  Wordpress.org software is very easy to install.  Matter of fact, Bluehost has the software for you and will install it in a matter of a few clicks.  Using WordPress.org software on your site allows you complete functionality and known costs, around $100-110 per year.
So, just to alleviate any confusion, what we recommend if you want the most control over your business's site is:
Your paid domain, with your hosting provider, using WordPress.org software!
NOT a free subdomain on a managed platform like WordPress.com!
Here are some additional reasons we recommend WordPress.org software:
It's open source software so there are always improvements, updates and features. Here's what WordPress has to say about this:
WordPress is an Open Source project, which means there are hundreds of people all over the world working on it. (More than most commercial platforms.) It also means you are free to use it for anything from your cat's homepage to a Fortune 500 web site without paying anyone a license fee and a number of other important freedoms.
A huge community for support.  If you have any problem you're trying to solve, you're usually only a few minutes away from a solution when you use the forums at http://wordpress.org/support. Like the software itself, these forums are free, the users have a wealth of experience, and can always point you in the right direction.  They're tolerant of "newbies", too!
Again, since WordPress.org is open source there are tons of developers out there who produce enhancements to WordPress.  Some paid and some free, these enhancements can give your site the functionality you're looking for.
Installing WordPress
Here is a great series of tutorials from Bluehost for installing WordPress and developing your site:
Part 1:  Explains WordPress as a fully functional content management system (CMS)
Part 2:  Installing WordPress on your Bluehost account
Part 3:  Changing themes and appearance
Part 4:  Creating a static page (a page that doesn't change)
Part 5:  Creating a page for blog posts
Part 6:  Create and upload a photo gallery
Part 7:  Uploading documents
Module Summary
Ok, we've thrown a lot of new terms your way and if this stuff is new to you it can be awfully confusing!  So lets take it all and equate it to something we all know.  Let's compare your new website to your car.  I know, it's a stretch but play along…
What makes your car run is its engine. What makes your website run in our example is WordPress.org software.
So what is hosting? Well, hosting is where your website resides, just like your car resides in your garage!  Your car does fit in your garage, doesn't it?
We'll carry the "car to website"  analogy a little further in the next module.  OK, don't forget to watch the videos from Bluehost to see how easy working with WordPress on your Bluehost site can be.
Our next module is Module 5: Giving Your Site More Functionality.  We make sites more functional by using some accessories called "Plugins". But first, you're probably ready to set up your hosting account with Bluehost and get your FREE domain name.
Good luck and we'll see you in Module 5!
Module 5: Giving Your Site More Functionality
So, look at you!  By now you have your free domain name, set up your hosting plan, and have installed WordPress.  You're almost ready to go!
Overview:  Back in Module 4, we began an analogy between a car and a website.  We said that just as an engine is what makes your car run, WordPress.org software is what makes your website run.  We also said hosting is where your website resides, just like your car resides in your garage.  Now we're going a few steps further and talking about appearance and functionality. So, in this module we'll be talking about your site's theme and some plugins that you can use to give your site some additional functionality.  So let's expand on our car analogy.
We all know that a car has a certain "look"…it's body style.  Your website has a certain look, too, called your "theme." It doesn't make your car run, it just gives it "the look."
A Custom Theme
As you'll recall, one of the videos you watched above, Part 3: Changing Themes and Appearance in Bluehost's video series in Module 4, discusses themes. Your site's theme goes a long way toward giving your site the unique look that fits your business's brand.  WordPress.org has loads of free themes to choose from.  There are also paid custom themes available that really give you some amazing ways to truly customize your site.  If you Google "custom WordPress themes" you'll find plenty to choose from.  Here at Simple Life Together, we've tried many free themes and quite a few of the custom themes, too.  Here's what we've found:
There are some terrific free themes out there, many with just the look you're going for.  The problem with the free themes is that at some point you find there's something you'd like to customize and the free theme won't let you.  Some examples are the margins are set and can't be changed, you can't upload a header picture, the spacing between sections of the theme isn't to your liking but it's set in the "code" and you can't change it.  Many times these are little inconveniences that you can live with…but sometimes they can be awfully frustrating 'cuz you can't get your site to look just the way you want it! It boils down to a take it or leave it situation.  However, if you're on a budget and don't need too much customization to get the look you want then free themes are definitely for you!
As for paid custom themes, well not all of them are the 100% solution either!  Some have the capability for amazing customization but unless you're a "coder" you can't figure out how to tap into it!  Some theme developers show pictures of these beautiful sites, leaving you believing you can make yours look that good.  But once again, these were specific customizations from expert coders who do this for a living.
The theme we use (and are affiliates for) is the Thesis Theme.  But as much as we like Thesis, it's recently gone through a complete change with its new "2.0 upgrade" which we think has completely ruined what was once a very "newbie friendly" and customizable theme. We're really hoping they re-group and fix what seems like a not-so-well-planned-out launch of the new theme. So, if you have some experience coding and are considering purchasing the  Thesis Theme anyway, please consider using our link. But if you are a bit of a "newbie" and don't have coding experience, we'd recommend you skip Thesis at this point and read on.
So, we'll be sure to update this guide if we decide to once again endorse the Thesis Theme. In the meantime, there are lots of other custom themes available, but one that I've recently decided to use is the Catalyst Theme. I'm working with it right now and am evaluating it's functionality against Thesis. So far so good!  The best thing about Catalyst is that you can also use what are called "skins" with Catalyst to give your site a very, very custom look without any coding experience.  Very cool! Skins can be found at the Dynamic Skin Store.  So if you are considering a custom theme, check out Catalyst and see if it's for you! I'm reluctant to give it a complete "thumbs up" yet since I'm still playing around with it, but I did buy it, it has lots of options, and I think it has potential. But, for now, check it out for yourself if you're looking for a custom theme.
The best thing about themes is that you can switch between themes in your WordPress dashboard literally at will. It's kind of like changing outfits…yeah it's still all you under there, but you have a whole new look! Very cool stuff!
Enhancing Your Site Using Plugins
Just as you customize your car with different accessories to give it different functionality (such as air conditioning, CD players, and heated seats), you can customize your WordPress website with packets of software called "Plugins" to give it functionality, too!  Some examples of plugins are contact forms and buttons, social media sharing buttons, and ways to backup your website in case you lose data for some reason.  There are even ways to cut way down on spam messages you receive in your blog post comments…all with plugins!
Here is a list of plugins we recommend you consider for your website.  All of these are free.  Matter of fact, the overwhelming majority of plugins are free, but you should strive to use as few as you can while still meeting all your customization needs.  Why?  Well, because most plugins are free that means they may not be as up-to-date as your version of WordPress.  Developers who make free plugins typically work on them in their spare time.  As each plugin is a packet of code, just as WordPress is code, and so there may be conflicts if one or the other is not an up-to-date version, causing compatibility issues.  Don't let this scare you away from using plugins…but like most things plugins are best in moderation.
Basic Plugins:
 Akismet:  Akismet is quite possibly the best way in the world to protect your blog from comment and trackback spam. (Note: trackback spam is when spammers try to send multiple links back to their own site by placing spam messages in the "comments"  section of your site. This may give search engines the appearance that your site gives the spammers site credibility). The plugin will have instructions on how to do this but you'll need to register for what Akismet calls an "Akismet API key" which is basically a code number they assign you.  In your WordPress Dashboard you'll go to your Akismet configuration page, and type in your API key. This way, Akismet knows that they're protecting your site.
Blubrry PowerPress:  Blubrry PowerPress adds podcasting support to your blog if you ever decide you want to produce a podcast. Features include: media player, 3rd party statistics, iTunes integration, Blubrry Services (Media Statistics and Hosting) integration and a lot more.
Contact Form 7:  You'll want to have a way for readers to contact you from your site.  Contact Form 7 lets you build a form with the fields that suit you best. Simple but flexible. Although not a "plugin", Google Docs lets you do this function, too.
Google XML Sitemaps:  This plugin sounds advanced but it really isn't. This plugin will generate a special XML sitemap (a map of your site's code) which will help search engines like Google, Yahoo, Bing and Ask.com to better index (crawl through and map out) your blog.
Page Columnist:  A simple way to get single posts and static pages content arranged in column layout; also supports overview page behavior.
SexyBookmarks:  You know those buttons you see on a lot of sites that let you share the content you read to Facebook, Twitter, and other social media sites?  Well, SexyBookmarks adds a list of social bookmarking icons to each of your posts. You get to pick which sites you want to enable sharing to and the icons look great!
Surveys:  What's the best way to find out what your readers like to read or what their favorite organizing topics are?  Ask them!  The Surveys WordPress plugin lets you add surveys to your blog. You can let the visitors take surveys and you see the result from your admin panel.
Thesis OpenHook:  If you do go with the Thesis Theme, the Thesis OpenHook plugin allows you to insert arbitrary content into the many hooks that the Thesis Theme Framework provides.  This one is a bit advanced and will require you to do a little research to effectively use it.  It's not for the novice but it is nice to load the plugin and experiment with it when you have time. For example, if you wanted to customize your site's footer with your business's tagline or a quote you could use a Thesis Hook to insert that.
WordPress Database Backup:  On-demand backup of your WordPress database. This plugin will backup your site and email you the backup files.  We use it in conjunction with Thesis's built in Thesis Options Manager which lets you backup your Thesis-specific settings.
WP Super Cache:  Very fast caching plugin for WordPress that helps your site load faster for returning readers.
Again, this list has some common basic plugins and what they do for your site.  There are many more advanced plugins that are outside the scope of this basic course but you can research them easily to see if they're a good fit.
And don't forget, using plugins was covered in Bluehost's free video series above in Part 6:  Create and Upload a Photo Gallery, which also shows you how to search for them, install them and how they can change the functionality of your site.
So, let's recap what we covered here in Module 5 before we move on.  Now you have a good idea what themes do and how they affect the "look" of your site, just like the body style is the "look" of your car.  Remember, there are lots of free themes out there to get you started and many of them may come with all the functionality you'll ever need.  If you decide you want more control over how your site looks and what you can do with it, then a premium theme may be the best way to go for you.  There are lots of premium themes to choose from, but just be sure you'll be getting your money's worth and that there aren't hidden "upgrade" fees, etc. If you think you've found a theme you like, search around to see what others are saying about it before you make your purchase.
You also now know what plugins are and that they can help you do more things with your site.  Plugins are to your site what accessories are to your car…add ons which give additional functionality. When it comes to plugins, the list of basic plugins we discussed is plenty to get you started.
Our next module is Module 6: Getting Creative with Your Brand.  We'll be discussing your brand…one of the most important aspects of making your site, and your business, stand out from the rest!
Module 6: Getting Creative with Your Brand (logos, headers, print materials, promotional merchandise, etc)
Your first inclination when starting a business is to try and do as much as you can on the cheap.  There's certainly nothing wrong with that.  If you have some skills at Photoshop, Adobe Illustrator, Pixelmator or even Keynote or PowerPoint, you might be able to whip up a terrific logo on your own.  Maybe you know someone who has some graphic design skills who owes you a favor or would like to help?  Or, maybe you could barter your services?  One key thing to keep in mind is that over the life of your business…even if it is just a "side gig" at this point… you'll spend a good chunk of change on merchandising materials that, hopefully, will help people identify with you as a brand.  If you start off with a bad logo you'll have some regret along the way.  So, don't rush your logo…give it some deep thought.  Don't let it hold you back from making progress but don't jump at the first one you see, either.
Not long ago, we were exploring options to start a new venture consisting of an awesome team of professional organizers, productivity experts, and personal technology specialists who each already had their own brand.  Kinda like way back in the day when Wonder Woman joined forces with Superman, Aquaman, and Batman & Robin to form the Superfriends! When it came time to design a logo, we went to a service called 99designs, held our own design contest, and that's how we came up with a logo that we loved!  It was WAY better than anything we came up with on our own!
So, if you want to really make a splash with the best logo you can, give them a try at 99designs.com.  99designs essentially holds a "design contest", designers compete to create a design you love, or you get your money back!
There are essentially three steps to getting your design done on 99designs.com:
1- Launch your design contest
– Create a design brief which is simply a clear outline of what you need designed. – To begin, post this brief to 99designs and choose a design package.
 2- Collaborate with designers
– Designers then submit concepts to you to compete for your prize. Be sure to provide continual feedback to help the designers deliver a concept you love!
3- Choose your favorite design
– At the completion of your contest, you'll need to pick your favorite design and award a winner. You'll then receive the final design along with copyright to the original art work.
-That's it..it's that easy!
There are also other places you can use to design your logo, make you a custom header for your site…actually, they can help with almost any of your branding needs.  Places such as Elance.com have all sorts of freelance experts ready to help you with any of your graphics, administrative, designing or any other type of business needs.  Visit each of them to see what services they provide and the competitive costs the offer by outsourcing to freelancers worldwide.
OK…one last one I want to mention. It's called Fiverr.com. You can get all sorts of graphics work, video work, and even very low-level design work done on Fiverr. I have used it to have great intro/outro videos done for my business sites, Vanessa's newer videos on her Get Simplifized website as well as for my clients' sites. You can check out this one here to see what I mean: Intro/Outro Demo. I did pay a little extra to have the outro video in HD, but my total for both videos was $15! Now, a word of caution…make sure you check out the reviews for the person you're hiring on Fiverr. Some of the work there might be a little "hokey."  Just do your due diligence, read the reviews, and give good guidance to the person you're working with. I've been very pleased with the results, and c'mon…it's five bucks! Oh yeah!
So, before you go and outsource all your logo work to Fiverr or some other site, read through the rest of this chapter. We work with Katie at BokaPromo.com and she's come up with some great advice for you…essentially, free promotional coaching…and let us provide that to you below. This advice will definitely save you time, money, and effort. With that said, there are a few things you need to think about when having your logo designed:
There are several mediums in which your logo can and will appear: Print, web, promotional merchandise (apparel, pens, bumper stickers, keychains, and other giveaways, etc).
You want a logo that will work in every medium — or you want to at least have a logo that has elements that will work in every medium.
You should be thinking about developing 'Brand Standards.'  Every large company has a manual of rules surrounding their logo.  These are things your web developer, promo company or any other service provider can or can't do with your logo.   These standards involve colors, spacing, usage, etc.  For instance, Ralph Lauren requires that their polo 'dude' be embroidered in a certain limited number of colors – colors that fall within their approved color palette; colors that represent the brand.  Ralph Lauren also requires customers to submit a request in writing if more than 150 pieces of their apparel will be ordered.  They want to know intended usage, see a copy of the logo you intend to use, and who the shirts will be given to.  This eliminates their brand accidentally promoting something a large part of the population would find unsavory.  Even if you don't intend to become a Fortune 500 professional organizer, you should still set in writing a series of 'rules' about your logo.
When you've decided upon your finished logo, be sure to get several files types from your artist.  This will become exceedingly important when you decide to order promo items (promotional merchandise) as we will outline next.  You want to be sure you have the following files:  a hi-res (high resolution) file and a vector format with all fonts outlined file.  While this doesn't mean much to you, your graphic artist will completely understand it.  This file is usually sent as  a .eps (Encapsulated PostScript) file which is developed in either Corel Draw,  Adobe Illustrator or other compatible graphics software program.  Most of us can't open these types of files on our PC's, so you should request a .jpg, a .png and a PDF of the art so you can view it and use them in standard programs.  A PDF can be saved to be hi-res and vector based — so in theory, you could request only a PDF as long as it meets the format requirements. Your promo supplier will request a hi-res, vector based file from you for most art purposes.  The only time a .jpg can be used in promotional products is for embroidery.  The .eps, .jpg, .png and PDF files will also work for your website and any printed material (letterhead, business cards, envelopes, etc) you may wish to stock.
In addition to these file types, you might want to request some different versions.  Here's what Boka Promo recommends you ask for:  Full color, all 1 color (if your primary color is something other than black), all black, the whole logo (with tag line, if you have one), the logo with phone number and website, or just one or the other.  This will become important when you are ordering promotional products.
Promotional Merchandise or Products, sometimes call swag, are items that are 'branded' with your logo and used in marketing or advertising.  These can be given away to preferred customers, at trade shows and conferences, or any time the opportunity arises. It's a good, usually inexpensive, way to get your company name 'out there.'  These items can range from a $0.25 pen to a $50 'referral gift', among other things.  You should check with your tax attorney or CPA to see if there is a dollar limit that you can't exceed when giving gifts to your clients. Several industries do impose a limit.
Remember, promotional merchandise is to be used to promote your company and brand.  Most smaller items like pens, keychains, bumper stickers, etc. should include not only your logo, but some contact information as well.  A phone number and/or website should suffice.  On nicer, larger items (like padfolios, business card holders, etc), put your logo on it but include your business card on the inside.
A few things to know about promo:
You will rarely buy directly from the manufacturer.  The promo industry is set up for the public to buy through a distributor. You can go to any website to purchase these items, but keep in mind that a website will not be a brand steward for you — they will put your logo on anything you ask but it might not meet your standards. It's wise to go through a reputable company with an account manager who will help you through the entire process.  That account manager becomes your representative with the manufacturer. At Clutter Angels, we recommend only one promotional company, Boka Promotions. You can reach them at BokaPromo.com. Katie, our account manager there, goes above and beyond to provide us with top-notch service.
You get deeper discounts in larger quantities. In almost every case, you can't buy just 1 of anything with your brand on it.  There are always minimum order requirements that you'll have to adhere to. Suppliers will sometimes allow a 'less than minimum' order, but there is always a fee.
Apparel is decorated differently than 'hard goods.'  There are a few different ways to decorate: Patches, direct embroidery, silk screening.  These methods' pricing structures are all quantity-based.  Patches and embroidery are additionally based on stitch count — the more intricate your logo, that higher the stitch count.  You will almost always pay a 'tape charge' — this is a setup fee to put your logo in the correct file format for the embroidery machines to use.  Helpful hint: You typically don't want to embroider t-shirts.  They are too lightweight and will end up 'puckering' around the stitching.  Also, the 'fine print' of your logo or tag line will likely not embroider well so consider omitting it altogether. Silk screening is additionally based on number of colors in the art as well as the color of the apparel item it's going on.  White shirts are usually less expensive on their own.  Darker shirts are usually higher in price (because of the dyes and process of dying) and also require a layer of white be put down first so your art will show up.  You will usually pay a set up fee and a 'run' charge for each color in the art.  Of course, the more you buy, the less expensive the run charge.  Minimum order quantities for apparel and caps is usually 12-24 pieces.  If you really need less than that, you will pay a much, much higher price. It's also harder to find suppliers who are willing to do a small run.  Helpful hint:  You typically don't want to silk screen performance shirts or sport (collared) shirts.  Performance shirts are too slick and sport shirts  convey a higher price point, so should be embroidered.
Your promotional products distributor can't just add a phone number or website to your merchandise.  All art has to be submitted to the supplier in the file formats mentioned previously.  This is why you should have several versions of your logo created by your graphic artist.  One of these versions should include contact info you'd want imprinted with your logo on a promotional product.
Pens (as well as many other smaller items like key chains, etc) have a very small imprint area.  The best art to put on pens is straight line text or a logo that is mostly straight.  For instance, Nike with the 'swoosh' and a website and phone number would likely work just fine on a pen.  Sadly, many main logos would not!  So business usually develop a 'pen variation' of their logo that can be used.
Ask your promo contact about charges like set up fees, PMS color matching, proof charges, etc.  Freight is usually NOT included in the item price and will almost always be a separate line on your invoice.  All promo manufacturer's have an overrun/under run policy.  This means that they have the right to produce up to 10% over or under the quantity you ordered and will bill you for the number of items shipped.  This is one reason why your promo contact can't provide you with a freight QUOTE, only a freight ESTIMATE.  They don't know what the final weight will be until after the order ships.
Finally, if you have any questions at all, call your promo contact.  They will be happy to answer any questions you have.  You can also have them do your shopping for you!  That's part of their service.  If you are looking for pens, drawstring sport backpacks, caps, or tradeshow tents, your promo contact will narrow down the choices for you and send you several options from which to choose.  Why waste your time looking for the perfect item when you can have the experts do it for you? If you don't have a promo contact and you're searching for one, contact Katie at Boka Promo, You can email her at katie@bokapromo.com.
Module 7: Tapping the Power of Social Media
Everywhere you turn these days entrepreneurs like you are being told that you have to tap into the power of social media.  Sites like Facebook, Twitter, Pinterest and even LinkedIn are becoming critical to the success of start-up businesses like yours, yet they didn't even exist a few short years ago.  There is a great video on YouTube titled Social Media Revolution 2012 that really shows you the impact social media has on individuals, business, and brands.  Take a few minutes and have a look!
So, if you watched the video there's probably little doubt in your mind now how important social media can be to your brand.  A common mistake of new business owners who haven't been immersed in social media is to believe that their prospective clients haven't been either.  Candidly, that's a mistake. Since 2009, the fastest growing segment of Facebook users has been women over 55 years of age.  How does that compare to your client demographic?  Enough said.
Still, if you're just starting your side gig, you're likely a "solopreneur"…a business of one…and you certainly can't be everywhere at once.  So how do you harness social media without it harnessing you?  Your specific "niche" will help you to figure out who your target audience is; maybe it's DIYers, crafters, busy professionals, small businesses…whatever your focus of your side gig.  Once you have an idea of your niche it may be easier to determine where they go for social media so you can develop a relationship with them where they already are.
Facebook is almost a given.  You'd be hard-pressed to find a demographic that is not on Facebook.  Don't take that to mean everyone is on Facebook, of course they're not. For those that aren't you'll have to develop relationships with them in other ways, such as traditional print advertising, mailers, speaking, etc. But for those that are on Facebook, a well developed Facebook Page for your business is important. Facebook has a quick step-by-step tool to create your page here.

Twitter is another popular social media application used to help get your message out. In our experience, Twitter hasn't been as effective in finding clientele as it has for networking. But "your mileage may vary" as the saying goes. It can be a great medium for announcing your latest blog post, share news about your business, and most of all, sharing items of interest to your community of followers but aren't specifically about you or your business. If your twitter stream is a constant lineup of Tweets about you and your business, it's like listening to a channel that plays nothing but commercials.  If you were subjected to that from a person or business you'd probably "unfollow" them, so make sure you have a good mix of Tweets. When in doubt, go with the 80/20 rule…80 percent of your Tweets about items of interest, 20 percent about you, your product, or your service. You can go to Twitter.com to sign up. We also recommend Michael Hyatt's free "Beginner's Guide to Twitter" as a great place to start and get familiar with how to use Twitter.

LinkedIn is a very popular service to list your business profile. We'd classify it as more of a networking tool than a social media tool, although the lines for both are beginning to get very blurred.  It certainly can't hurt to take the few minutes to fill out your profile on LinkedIn, then take a look around and see if it's the right place for you to invest some time networking.
Make the effort to join LinkedIn groups that are focused on your local area and will have local business owners as members.  Once a relationship is built, LinkedIn members can "recommend" other members connect members, thereby becoming a means of "social proof." (Note:  social proof is the tendency to believe and act on recommendations of those you trust, or large peer group with similar interests).  To sign up for LinkedIn simply go to the LinkedIn.com homepage.

"So, you're telling me that I have to be everywhere on social media? I don't have enough time in my day to be constantly Tweeting, Facebooking, and messaging on LinkedIn! I have a business to run!"  You know what? You're right!  However, there are some terrific tools you can use to help you write, schedule and post to all three services at once, or stagger the times so it can post for you!  The two that we love are ifttt (purposely lower case and stands for "If This, Then That") and buffer (again, purposely lower case because that is how the company trademarked it).  You can post to all three major social media sites at once and save loads of time…time that you can spend on your business or that other small part of the day you call "life".
With ifttt you make "recipes" for what what you want to happen based on the structure "if this then that."  Crazy, huh? You can use this for literally thousands of tasks that already have recipes made for you!  You simply link your accounts. Now, the first "recipe" I used was to get an email if it is supposed to rain tomorrow. So, if I happen to be working outside and I know it's going to rain, I can be sure to pack and dress accordingly.  That recipe looks like this in ifttt:

You can see that since I started using this recipe in February of 2012 it has alerted me 25 times.  And I didn't even have to turn on the Weather Channel to find out! You can join ifttt on their homepage at ifttt.com. Here's a graphic example of how ifttt works:

So, applying ifttt to social media, here are some more examples of "recipes" that you can use. Again, you set these up once and they do the work for you. Say you write a new post on your blog. You could have recipes set up to send your post directly to your Facebook Business Page, your personal Facebook Profile, Twitter, Evernote if you're an Evernote user, and your LinkedIn profile…all at the same time!
With buffer (again purposely lower case), which you can find at bufferapp.com, not only can you post to many of your accounts at once, you can also preload posts and schedule when they are published (posted)!  Essentially, it's like the "buffer" in a printer that holds items in queue before printing.  The free version allows you to have 10 posts in the buffer at one time and lets you link to one Facebook account and one Twitter account.  Of course, paid plans let you do more.  Just a note, buffer announced in January of 2012 that it will be available soon for Pinterest and Google+ (we'll talk about those in a minute).  That's a bonus!
Here are the current plans offered by buffer:
Pinterest really took the US by storm in 2011 and shows no sign at all of letting up.  Pinterest describes itself as a "virtual pinboard" that allows you to organize and share all the beautiful things you find on the web. You can browse pinboards created by other people to discover new things and get inspiration from people who share your interests. Of course, you can't capture and share your client's feeling of "Ahhhhhh" when you're done with a session, but you sure can share pictures of your handy work (with your client's permission, of course) with your followers!  You can post pictures and even videos to your pinboards.  You can also link the pictures and videos directly back to your site so when other "pinners" see your visuals and click on them, they are taken directly to your website to learn more about you!  A word of caution…Pinterest can be addicting!
Here's a quick visual of the Pinterest Login page in the "organizing" search category:

Google+ is the newbie of the bunch, but it's really an incredible platform to interact with your circle of followers.  As much as we love the Google+ platform there isn't anywhere near the amount of traffic on it that you'll find on Facebook. However, if you do have fans of your brand on Google+ be sure to exploit the "Hangout" function where you can video chat with up to 9 of those in your "circles". or a Hangout On Air (HOA) that everyone can watch! It'll even post directly to your YouTube page and you can embed the HOA on your website! Personal interaction is certainly leaps and bounds ahead on the interaction spectrum that builds potential clients and fans who know, like and trust your brand.
We're big fans of Google+ and see it growing larger steadily and hopefully soon it will be a common platform.  Google + has also linked with what was Google Places to form the new "Google+ Local" review system.  If you've ever done a Google search for any type of business you'll recall that when local results came up on the search results page, they showed a Google Map that had some of the businesses highlighted.  Those were formerly Google Places results and are now Google+ Local results.  Here's an example:

So, let's wrap up this final module of the Simple Life Guide to Building Your Lifestyle Website with this:  in today's market, tapping into the power of social media can be a "make it" or "break it" effort.  True, you can't afford to spend your entire day on social media, but you can't afford to ignore it outright either.  Find a way to make it part of your routine.  Use some of the tools we talked about such as buffer and ifttt to make it easier.  Resist the urge to pay someone else to do it for you, too…no one can have your authenticity and passion.  You'll find the right balance.  It won't be overnight, but it will happen.  Be sure to connect with us here at Simple Life Together, too…we can be your biggest fans!
Course Summary
Well, we've come to the end of the guide.  Like we said at the beginning, "Not everyone is a techie."  But now you'll have options.  Now you know all of the critical steps you need to take to get your side gig's home on the web up and running to attract clientele. You're no longer at the mercy of your "web guy" and can truly choose which path you decide to take.
You can:
 Handle all the tech yourself, armed with this newfound understanding of it all!
Hire some of the more complex tasks out but maintain and grow your site yourself, taking it to the next level
or 
You may decide business is far too busy to do it all yourself and opt to hire someone to do all the tech "dirty work" for you…but now you'll understand and  be able to make informed decisions

Whichever option you choose you can rest assured knowing that at least now you are familiar with all the ins and outs of your online presence.  You have an idea which services to use for domains and hosting, what platform to use and how to increase its functionality, and even all the basics of branding and social media.
So, thanks for checking out our guide. It was made from the last 3 years of notes that I took as I struggled to build our first site, and subsequent sites. We're considering making some more "guides" or courses and we'd love your feedback on that.
Again, we'd really, really appreciate it if you used the affiliate links in the guide if they work as part of your plan. They won't add a penny to your bottom line and they would sure help us as we work to bring you the best content we can on  SimpleLifeTogether.com.
Take care…and most of all we hope you are able to put this guide to good use and begin your journey toward shaping your own simple life…that looks and feels just the way you want. If starting your own business or "side gig" is in your plans then it would be awesome to know that this guide helped in some small way. Please let us know, OK?