What are your most important things? We talk a lot about getting rid of "stuff" on the show, and in our lives that's what we've tried to do. We've gotten rid of just about 3000 things this year alone and have a couple hundred people who've joined in on it by accepting the Edit & Forget It Challenge.  While we have opted out of following the mass consumerism that most in our society hold dear, there are still some things we ourselves hold dear. We created a scenario: "What 5 things would you grab if your house was on fire?" and then put ourselves to the test to figure out what possessions, out of our entire home, are the most important to us.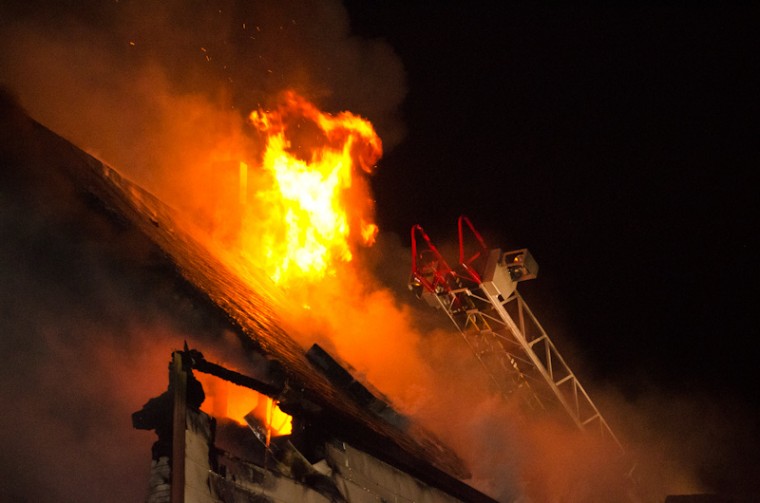 As we went through this exercise it really challenged us and realized that by spending some time thinking about your most important things…those top 5 things that you would grab out of your burning home, it greases your mental gears to:
Identify the your most important things. Things that mean the most to you and why.

Contemplate whether you're giving those things the attention they deserve day to day.

Identify ways to keep those things safe now and ready to carry out if necessary.

Condition yourself to more easily part with things that didn't make the list.

Get you thinking about being prepared in case of an emergency.

Podcast: Play in new window | Download
Subscribe: Apple Podcasts | Android | RSS
Main Topic:
Your House Is On Fire, You Can Save 5 Things…What Are They?
The first time Dan thought about this was over 10 years ago when a colleague of his lost all her possessions when her apartment caught fire. She was devastated when she got the news and came home to find everything gone.
He's been saying for a while now that we need to sit down and talk about what we'd do in an emergency. What would we take with us if we had the opportunity? What are our most important things?
In the military we use lots of different techniques to teach lessons….like Attention to Detail…a skill that could be transferred and applied to other things. We also talk about planning. To use our own corollary to Dwight Eisenhower's quote: "Plans are worthless, planning is priceless." It's in going through the exercise thoughtfully that will give you the most value. The Plan isn't as important as the ability to narrow down what's important to you and why. That is priceless, and something we should do on a continual basis.
Sure, the exercise was all about discerning those 5 things that are really important to us, but the real benefit of the exercise comes from following the natural course of things and asking some follow on questions like:
Am I giving this the attention it deserves right now?
What are some ways to keep this safe now and ready in case of an emergency?
Am I better prepared to part with things that didn't make the Top 5 list of your most important things?
Am I better prepared for an emergency? And will I feel less stress if an emergency did occur?
Conducting the Exercise:
Assumptions: Obviously in a real-world situation, you and your family's safety is the first priority.  But in order to alleviate a lot of  "what if" scenarios, we thought it best to establish some basic "assumptions":

You, your kids, your loved ones (including beloved pets) are safe, sound and out of the house.
Following the "fire" all your basic survival needs will be met (food, shelter, etc…).
You can choose 5 things that you can carry out of the house (not a couch, bed or pool table).
List your Top 5 things and ask the following questions: 

What is the Thing and Why?
Am I giving this the attention it deserves right now?
What are some ways to keep this safe now and ready in case of an emergency?
And then ask 2 final questions:

How has going through this exercise helped condition you to more easily part with things that didn't make the list?
Do you feel better prepared or better able to plan for  emergencies? Do you think that by doing this you might possibly feel less stress if an emergency did occur?
Our Top 5 things in reverse order…just in case you're interested:
(Note: for a detailed explanation of why we picked these items, feel free to listen in on the podcast)
Item #5

Vanessa: 2 gallon baggie with keepsake notes from her sister, letters from her mother and father and some of her childhood art and memorabilia
Dan: Grandpa's shaving mug
Item #4

Vanessa: Daughter's baby book
Dan: Cross from my Grandfather
Item #3

Vanessa: Jordanian calligraphy artpiece/wedding gift from Dan
Dan: External hard drive
Item #2

Vanessa: Purse with wallet, key's and iPad (because it would make life so much easier having credit cards and IDs!)
Dan: Notes from kids and Vanessa in Box of military docs
Item #1

Vanessa: iPhone…her mini-command center
Dan: The Guidon…our teardrop camper trailer because we could live out of it as a home!
Our own observations:
Going through the exercise was tougher than we thought, especially since we've downsized so much already, and what we have left is all somewhat important and useful stuff for us.
That being said, as we worked through the exercise, we came to the ultimate conclusion that we would be OK if ALL of it were lost. Our most important things weren't all that important after all.
We acknowledged that downsizing our possessions and being organized will make it a less stressful situation if we were ever in the situation to have  to grab a few things and go.
We both picked pragmatic/practical items as well as a few sentimental ones. And interestingly, the sentimental items were things that were for the most part, irreplaceable or told a story of our past…all the other gadgets and high-priced stuff didn't compare!
Question:
So, are you ready to conduct this exercise and figure out what your most important things are? Would you be able to grab them and leave safely in an emergency? After making your list are you better prepared to let go of things that didn't make your list? We'd love to hear what works for you.  You can leave comments below.
Thing Segment:
Dan's Thing: Some of Apple's iOS7 update for iPhone…especially the Audible App. The new iOS lets you still control many functions of the audio player in the Audible App even after the screen has locked and that when using the multitask function. Also, the ability to simply swipe upwards from the bottom of the screen to reveal the player's controls is pretty cool!
Vanessa's Thing: Bose Soundlink Mini: It's only 7″w x 2″h x 2″d, is portable, versatile, bluetooth enabled, lasts for hours on its battery, and has beautiful sound.  It's not cheap but was a cheaper substitute for what we were going to have installed in our teardrop camper.
Announcements:
If you're looking for more great content to help you simplify your life, check out our Recommendations Page at the top of our website here.
You'll find links to a bunch of great blogs, website, podcasts, and even a couple of books that we recommend.
Many of these bloggers or podcasters have been on the show or their folks we know and follow. So pass it on!
Special thanks also go out to our friend Brooks Duncan, for the great post he did on us for DocumentSnap.com. You can read it at documentsnap.com/simple-life-together and check out all his great tips about going digital to make your life simpler there, too.
Shownotes:
You can download a PDF of our show prep, too.
Resources and Links:
SLT 016: Making Decisions Like a Fighter Pilot (OODA Loop)
SLT 017/018: Evernote Simplified Part 1 and Part 2
SLT: 027 Organizing Important Documents
Photo Courtesy of Kevin Gebhardt