Never underestimate the power of habit. In mid-April of 2014, I decided that I needed to make some positive changes to my morning ritual. I've talked about my morning ritual a few times on the Simple Life Together podcast, and we discussed the power of habit, routines and rituals back in Episode 30 and also in one of our most popular episodes, The 7 Habits for Highly Effective Simplicity in Episode 55. But recently I read a book on habits (well, actually I listened to the audio version) by Charles Duhigg, titled The Power of Habit.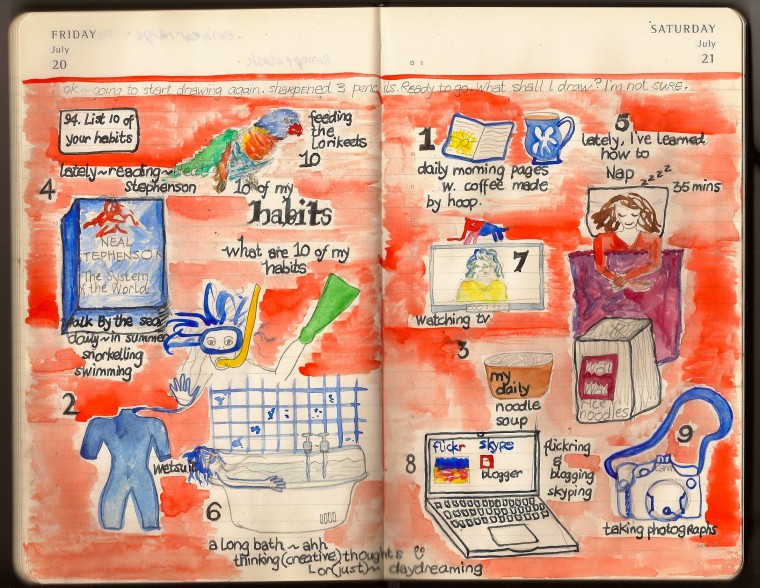 But let me back up just a bit and talk about my positive changes to how I spend my early morning. Following a visit to the doctor and the results of some medical testing, I decided that I need to get more active. Of course, my wife Vanessa had been encouraging me to do this for years…but you know how sometimes when the "advice" comes from a spouse or other close family member you occasionally ignore it? Well, yeah…that. Moving on…

Podcast: Play in new window | Download
Subscribe: Apple Podcasts | Android | RSS
Note: The school year starts soon! Get a copy of Supermom vs Super Mom for yourself or gift it to a Mom who needs a little "less" in her life. It's less than $5 and will save you countless hours and effort!
Topic:  The Power of Habit
I had always intended to start walking, but I never seemed to be able to fit it into my day. But as I've explained in the past my morning ritual consisted of me waking up about 2 hours earlier than the rest of the family, making a delicious cup of coffee with my Aeropress, and sitting down for some "me" time behind my Macbook Pro. I knew that had to change and I intended to not only establish a new walking habit, but to eventually turn that into a ritual as well.
Vanessa and I have defined "ritual" as a mindful act or actions that have an overarching benefit. Think of a ritual as the sweet spot; something that probably needs to be done, that you actually enjoy doing. So as I started off to develop my new habit of walking, The Power of Habit was playing in my earbuds on Day One. As I listened and walked, Mr Duhigg explained what he calls his Habit Loop which consists of Cue, Routine, and Reward. He also highlights what he calls "Keystone Habits;" small changes or habits that people introduce into their routines that carry over into other aspects of their lives. Duhigg contends that Keystone Habits have a ripple effect into other parts of your life, creating positive change unexpectedly. He used examples of exercise and eating together as a family as Keystone Habits, and I'd use our family time around the fire while camping (that "fire circle" I've mentioned before) as a prime example, too. Well, thats exactly what I was hoping to develop with my walk, a firm Keystone Habit. So I started off deliberately to ensure I did all I could do to make this work.
Knowing there are many ways to interrupt developing a new habit, here are a few things I did to help ensure success:
Sure enough, this walking habit has matured from a simple habit, to a routine, and is now a ritual that I enjoy. It has also become what Mr. Duhigg would refer to as a Keystone Habit, as well, spreading other goodness into various areas of my life. I've made great strides with my eating habits and other facets of my life by adopting the principles laid out by Mark Sisson in his Primal Blueprint. You can find out lots more about that at his website called Mark's Daily Apple. He has so much terrific (and free) information there, but I admit I devoured the audio versions of his books The Primal Connection and The Primal Blueprint. To date, following Mark's program, I've lost over 30 pounds, eliminated most of my prescription medicines (and cut the final one to half dosage), transitioned my complete diet to natural food sources, and I feel better than I have in years. Truly an amazing transformation, all stemming from one new habit: my daily walk.
Wrap Up:
So, if you've been waiting for a time to start tapping into the power of habits, maybe now is perfect for you. Be sure to check out The Power of Habit by Charles Duhigg. I'm sure we could all use some more Keystone Habits in our lives to help us live more fully, more simply, and more purposefully. Habits don't start without action, so if you didn't start yesterday, then today is your next best option.
Question:
So what are your Keystone Habits? What habits have you developed in the past that you're following today to shape your tomorrow? Are they positive habits that support the pillars of your Life Plan? Or are they habits that aren't really congruent with how you want to live your simple life? We'd love to know. Share your successes and struggles in the comments below. 
Announcements:
Shownotes:
You can download a PDF of our show prep, too.
Resources and Links: