When it comes to simple living, we can all use a few more tips to help us along. We're going to share 3 more simple living habits you can start using right now for a better today and tomorrow.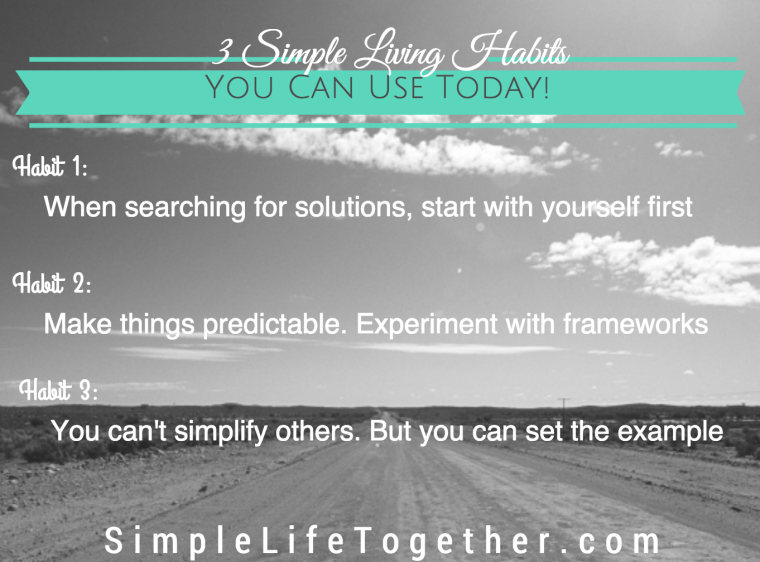 One of our most popular shows was Episode 55, 7 Habits for Highly Effective Simplicity. We passed along what we feel are the top 7 habits you can develop to bring some serious simplicity into your life. That show was shared thousands of times…over 2300 times on our Pinterest page alone! Well, today we're going to share 3 more. So let's jump right in!  Read More…

Podcast: Play in new window | Download
Subscribe: Apple Podcasts | Android | RSS
Note: Get a copy of Supermom vs Super Mom for yourself or gift it to a Mom who needs a little "less" in her life. It's less than $5 and will save you countless hours and effort!
Topic:  3 Simple Living Habits You Can Use Right Now
Habit 1: When searching for a solution, start with yourself first. Chances are, just like Dorothy with the ruby slippers in the Wizard of Oz, you had the power all along.
Tap into resources you already have. Shop in your own closet, pantry, etc…
When you work to solve your own problems, you are exercising your innovation muscles!
Too often we ask someone else for an answer. At least Google it before you ask.
By looking outside yourself, automatically you established a need…a need that didn't exist. That makes you a consumer instead of a producer and plays right into the hands of the marketing messages we're subjected to 3-5000 times a day.
Habit 2: Often, establishing a simplicity habit involves establishing a framework that helps you deal with things in a predictable manner. Try experimenting with different frameworks to see what works for you! Here are 3 we use:
The W-I-N Framework: One I've been using more and more lately is the WIN framework. WIN stands for "What's Important Now" and Vanessa first heard about it in Greg McKeown's excellent book Essentialism: The Disciplined Pursuit of Less.
The Eisenhauer Matrix Framework: You've probably seen this one before, but just imagine a simple foursquare matrix. The vertical axis plots importance and the horizontal axis plots urgency. So if you picture the four squares, the top/left square is Box 1, Urgent & Important box. The top right is Box 2, Less Urgent & Important. Box 3 on the bottom/left is Less Important & Urgent. And finally, Box 4, Less Important & Less urgent, is on the bottom/right. The folks over at Eisenhauer.me did a great little video:
Isn't that the truth! "What is important is seldom urgent and what is urgent is seldom important."
The S.I.M.P.L.E. Method of Organizing Framework: Another framework is Vanessa's S.I.M.P.L.E. Method© of organizing which she breaks down in great detail in her book Super Mom vs Supermom: Simplicity Tips for Busy Moms Here's an outline:
Strategize:
• What are your needs?
• How do you want your space to look, feel, and function like?
Identify:
• What's working?
• What's not working?
• What are your limitations of the space?
• Draw or take pictures of the space.
• Take measurements.
Make Piles:
• Clear your space one area at a time.
• Work from left to right and top to bottom.
• Sort into general categories…like with like.
• Don't edit yet! Make the piles first to see what and how much you have.
Pare Down and Edit:
• After you make piles then tackle one pile at a time…one item at a time.
• Decide: Do I USE it? Do I LOVE it? Do I NEED it?
• If yes…KEEP it!
• If no…LET it GO!
• When you're done editing, remove unwanted and unneeded items immediately!
Let's Organize:
• Assign zones.
• Keep like items with like items.
• Put it where you use it.
• Put frequently used items within arms reach.
• Make sure things are easy to get to…think accessibility; open bins, simple systems, etc.
• Don't compromise safety for organization.
• Use containers and containers within containers.
• Label, label, label!
Evaluate and Maintain:
• Establish routines.
• Develop habits.
• Set reminders.
• Don't forget the One-In, One-Out rule.
• Repeat the  S-I-M-P-L-E Method as a means to maintain your system or to update your systems when your needs change.
You can find the whole SIMPLE process in Vanessa's book on Amazon. Seriously, it's less than a decent cup of coffee and you should treat yourself.
Habit 3: Lead Others To Simple Living By Leading Yourself:  The number 1 question or pain point we get from people is "How do I get (someone they care about) to embrace simplicity? They're into simplicity and someone close to them isn't. It may be a spouse, a parent, your kids, a friend…whoever.  Well, the real bottom line is this: you just need to lead by example. Sure, you can establish some controls with kids, but for the most part just setting the example will go a long way to influence others to adopt positive change.
Wrap Up:
So there you have it! Three more simple living habits you can use to make your life a little easier. As we enter the Holiday season of 2014 we're faced with lots of simplicity challenges. Be good to yourself in all the right ways. That includes forgiveness if you get off path a bit.
And the new year brings lots of opportunities for new beginnings, too. If you need some extra motivation, scroll through the older episodes of the back catalog and re-listen to some of those shows.
You can find links to all our shows on one page by going to SimpleLifeTogether.com/showlist. But here are 5 that can really help you jumpstart your New Year: Episodes 51, 52, 55, 63, and 65.
Question:
So, what new simplicity habits are you willing to try? Are you ready to start tapping into your own innovation and resources? Which of the 3 frameworks we shared might work for you? And finally, what area of your life can you start simplifying that sets the example for others? We'd love to know and I'm sure others would too! Let us know what you think in the comments below. 
Announcements:
Project 333
Why not start out the new year with a challenge? If you have questions or just want to learn more about Project 333 or Courtney Carver's Dress With Less microcourse. You can learn more about that at SimpleLifeTogether.com/dress.
Edit & Forget It Challenge
Finally, sign up for the Edit & Forget It Challenge! If you're already on our Edit & Forget It Challenge email list, that's great. If not, you can sign up here.
Shownotes:
You can download a PDF of our show prep, too.
Resources and Links: