Is it time to simplify your wardrobe? Think about it, what is it that dictates how big your wardrobe is or how many clothes you have? Is it fashion and changing trends? Is it utility? Is it the weather or the climate? Is it an expectation of society or your social circle? Is it the activities that you do that necessitate what you wear? Or is it simply the size of your container…be it an overnight bag or walk-in closet? The answer to all of these is probably YES! That's the thing about clothes, we all wear different things for different reasons.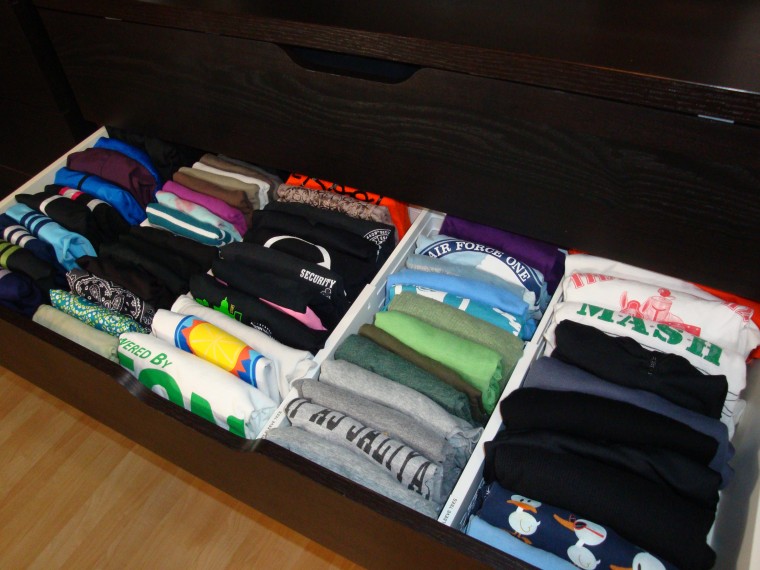 Podcast: Play in new window | Download
Subscribe: Apple Podcasts | Android | RSS
But, sometimes it's like cable TV…500 channels and nothing on, right? You go into your huge walk-in closet and you can't find a thing to wear! So what's the real problem? Is it analysis paralysis…just too many decisions? Well, let's dive into that. Read more…
Main Topic:
We all have different reasons for what we wear and how big our wardrobe is. It's a pretty personal thing and each of us is unique, but maybe it is time to simplify your wardrobe a bit? Our ancestors certainly lived with a whole lot less than we do…and there are those who choose to minimize what they keep in their clothes closets. We decided to ask ourselves some very pointed questions about what we wear and why, and some others questions to see if there was an opportunity to edit our closets and drawers to a point that feels more like "enough" and less like "too much."
Question: So what things shape your current wardrobe?
Vanessa:

Work: professional business attire and hands-on organizing work attire.
Climate: mostly warm weather clothes needed here in San Antonio, TX.
Culture: cowboy, Western, relaxed.
Lifestyle: fitness and travel dictate need for lightweight and versatile clothing…nothing to iron!
Personality and Image: pretty tomboy look…fun yet put together…balance of attractive yet conservative clothing.
Dan: 

The look: going for that "guy in shorts" with a little bit of "guy in tee shirt" look (ha-ha!).
Mostly comfort: work from home so commute is only 19 steps…like to stay pretty comfortable.
Uniformity: think of clothes as a uniform with everything capable of mixing and matching.
Weather: the San Antonio  heat really does dictate my wardrobe.
Question: So what does your wardrobe look like now?
Vanessa:

A lot of fitness clothing.
Closet: 40% work and professional attire, 40% casual and 20% travel/merino wool and coats.
Few accessories: 8 purses, 6 belts, 6 scarves…but only wear or use half of each!
Shoes are my weakness! I hate to admit this… but I have 40 pairs, half of which are for professional attire which I wear maybe 10% of the time if that!
Dan:

8 of the same identical black short sleeve shirts, 4 identical long sleeve shirts, identical calf wool socks and SmartWool ankle sock…a lot of the same!
Very few "accessories"...a few baseball caps, 3 cowboy hats and only my wedding ring for jewelry.
On the "dressed up spectrum" most of what I wear is on the lounge around at home or very casual end.
Only have 1 or 2 options for business attire.
"Business casual" however is a little slim.
Question: What would your ideal wardrobe look like?
Vanessa:

Nothing to iron.
Everything is comfortable.
Everything fits or is tailored to my shape.
All clothing is attractive and flattering.
Can coordinate pieces into different outfits.
A variety of colors other than black and brown (can be a limitation though).
No dry-cleaning.
Be able to pack everything I own in 1 piece of luggage or large duffle bag!
Dan: 

Very casual wardrobe that doesn't show sweat.
Drapes well and doesn't bind or make me feel self conscious.
Mostly black or brown .
Favorite clothes are ones I can wear and feel comfortable in 70 degree weather.
I wish I could pull off keeping my shemagh around my neck like in the desert…they're very functional.
Question: What are some of your favorite pieces and why?
Vanessa:

My running shoes: bright hot pink, comfortable and fit my running style.
Bling bling cowboy pants:  comfortable, don't stretch out, and are flattering on me.
Merino wool long skirt: comfortable, breathable, fits well and can look casual or sporty.
Shirts with built in bra: way more comfortable than having a separate bra!
Long necklaces and scarves: they can dress up an outfit in an instant!
Vera Wang tall riding boots: casual yet slightly dressy and I can wear with pants, skirts or shorts.
Sunglasses: stylish and can be used as a headband.
Dan:

Cargo shorts: just comfy for everyday wear.
Shants: feel great, quick drying, pants or shorts!
Ranger panties http://goo.gl/ZLLnCs
Crocs Santa Cruz slip-ons and my brown leather Born Hobarts: for their look and feel.
Scottevest Qzip shirts: can wear alone or as a layer.
Different weight fleece shirts and zip ups: perfect for winter.
Reflection, personal takeaways, and things we learned:
Vanessa:

 Just because your container isn't stuffed doesn't necessarily mean you don't have a lot.
Realized I still had quite a bit of clothing! My perception wasn't necessarily reality.
Although I do like versatile and utilitarian clothing…I care just as much about how they look and wondered if that's a vanity or a self-conscious issue.
It's not a bad idea to conduct a little 80/20 analysis every once in a while.
Dan:

There are definitely things I can get DX (get rid of).
Don't need so many of the same shirts…probably only half.
Too many shoes, too!
Courtney Carver's Project 333:
So…recognizing all of these things, we've decided to take a look at Courtney Carver's Project 333. Basically it's a project that challenges you to pick just 33 things…and only 33 things to wear for 3 months. She also has a microcourse called Dress With Less that goes along with Project 333.
So here's a little bit more on how it works:
When: every 3 months (you can start any time)
What: 33 items including clothing, accessories, jewelry, outerwear (coats, hats, scarves and gloves) and shoes.
What not: items not included as part of the 33 are wedding bands or sentimental pieces that you always wear and never take off, underwear, sleepwear, in-home loungewear and workout clothing (as long as you don't wear it as casual clothing too).
How: choose your 33 items and box up the rest. You don't have to toss them…just box them up and store away.
Courtney goes on to explain that this isn't meant to be a project in suffering. If clothes don't fit, or are in poor condition…replace them!
We're definitely doing it! We were going to make our own plan, but we've heard so many great things about Courtney's Dress For Less microcourse that I figured, "Why reinvent the wheel?" Heck, it's only $15 and honestly, we'd spend way more in time trying to figure out how we were gonna do this! So, we're going with Courtney's course!  If you're looking to simplify your wardrobe, consider joining us too!
Take Away:
We all have different reasons for what we wear and the size of our wardrobe. It's personal and each of us is unique. Only you can decide what's right for you, but maybe doing some experimenting once in a while will let you see how much you truly need or want to keep.
For us, we think we're best served when we base our wardrobe on how we want to live, how to best portray who we are and the image we want to project. The more authentic that is, the smaller our wardrobe needs to be. Regardless of the size of the container, we're trying not confuse needs with wants and we're shooting to live with just enough. And for us, living with "just enough" is a perfect way to help make our lives simpler.
Question:
So, maybe it's time to take a second look at your wardrobe to see what's right for you? If you decide to makes some changes, we'd love to hear about them. Please feel free to share your thoughts with us in the comments below.
Thing Segment:
Dan's Thing: Getting back to basics and spending some time riding horseback around the Silver Spur Ranch in the Texas Hill Country
Vanessa's Thing: Same thing (pun intended)! Making new memories horseback riding too, and enjoying the benefits of paying for access versus ownership.
Announcements:
A HUGE thank you for all of you who nominated us for the Podcast Awards! Amazingly, Simple Life Together is a finalist in the Education category and also the coveted People's Choice category. So, we're up against 9 other shows in each category, but as Vanessa said there were over 4400 shows competing and we made the final cut. We really feel like we've already won.
So here's how the shows were graded to make the finals:
40% from number of nominations
20% from relevance of content
15% from website design quality
15% from sound quality
10% from podcast delivery and show format quality
So what happens next?
Voting starts 1 November and lasts until 15 November.

You can and should

vote once a day

at PodcastAwards.com
As much as we'd really like to win, we have no desire whatsoever to inundate you with info about this.
So, if you're up to voting every day for two weeks we'd love it. If not, vote when when you can. No matter what, we sincerely appreciate your support!
As far as I can tell we're the only podcast dealing with simplicity in any of the categories.
Some of our good friends also made the finals so consider voting for them too: Mommy's Cocktail Hour for Food and Drink, and Ivy Envy & Who-Dey Weekly in the Sports category.
While

voting is from 1-15 November only

, the awards aren't announced until 5 January at New Media Expo in Las Vegas, so it's a bit of a wait!
Thanks again soooo much! SLT listeners rock!
Shownotes:
You can download a PDF of our show prep, too.
Resources and Links:
As always, you can help support SimpleLifeTogether.com by using our Amazon Affiliate Link for any purchases you must make. Thanks!
Courtney Carver's Dress With Less and Project 333
Icebreaker Merino Wool Clothing

If you haven't already, please be sure to go to iTunes to subscribe to the show. Don't forget to leave us a rating & review! Thanks!