An SLT Update, & the Value of Simple w/Joel Zaslofsky
Well, we're a little over 6 months into this "whole blog/podcast thing" and we figured it was time for an update. Actually, we're probably way overdue for an update! There are some things upcoming that you may be interested in and we'll also be taking a little bit of a break as we head into our summertime family working vacation.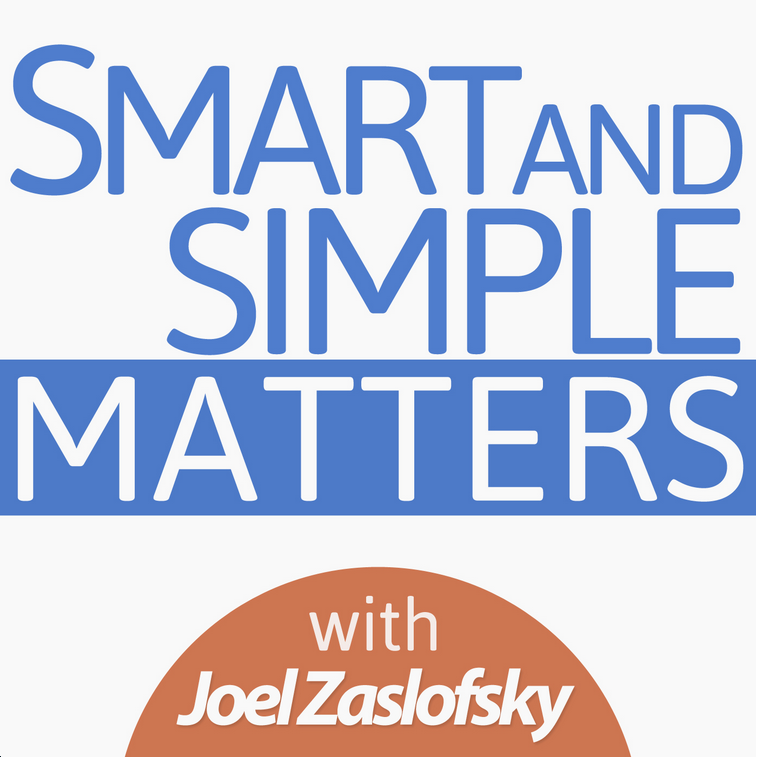 But the highlight of this week's episode is an interview with a good friend of ours, and fellow simplicity aficionado, Joel Zaslofsky of the Value of Simplicity blog and the amazing Smart and Simple Matters podcast!

Podcast: Play in new window | Download
Subscribe: Apple Podcasts | Android | RSS
Simple Life Together Update:    
We wanted to let you know some things that are going on with us and the show:
Photo organization: We've talked about this in the past and it's probably one of the most requested topics we get. We're still researching and asking the pro's for some tips, so you can look forward to that in the next couple of months.
Dan will be doing an Evernote tutorial, too, at some point. He's been waiting for the dust to settle and now is ready to start working on it.  If you have any special requests regarding Evernote, drop Dan a note at Dan@SimpleLifeTogether.com.
Finally, we'll be on the road a bit for the next month or so…we'll be in Portland for Chris Guillebeau's World Domination Summit for the 3rd year in a row and then we have some mixed business & fun time with family throughout July and early August. We typically release shows every Thursday but for July we'll have shows on the 4th and 18th and then pick back up in August!
Interview with Joel Zaslofsky of the Value of Simple
We had an amazing interview with Joel Zaslofsky…creator of the awesome Smart and Simple Matters podcast and the Value of Simple blog. He's incredibly open about his journey from a six-figure corporate job to carving out a niche online, while shaping his simple lifestyle. He offers tons of tips and free resources on his website to help you "liberate your time, money and talent." 
We were thrilled to be his guests on Episode 15 of the Smart and Simple Matters show back in January and we've been dying to have Joel on our show. Well, we finally made that happen and it was fantastic!  You don't want to miss this interview!  Here are some of the questions and things we talked about:
– So Joel, who are you and how do you make people's lives simpler?
– So, you talk about your "Personal Renaissance." Can you describe what that is, what it's been like for you, and how it has led to a simpler/more focused life?
– Can you tell us a little about the backstory of "liberate your time, money and talent" as it relates to you, your clients and your people who follow your work?
– Tell us about your love for spreadsheets and some ways you use them to simplify your life.
– How would you define curating, what do you curate personally, and how do you think others could benefit from curating?
– Batman has his Batcave, the Super Friends had the Hall of Justice, and you have the Refuge of Simplicity! Can you share what goes on there?
– Can you give us any tips about "keeping it simple" with a family?
– For a lot of people, the whole "investment thing" is complicated. You address simplifying that in your online course "Start Investing with $100." Can you share a little about that?
– So Joel, what have we left out that is "must know" info for our listeners? What have you got going on these days?
Thing Segment
Dan's Thing: Our upcoming trip to WDS
Vanessa's Thing: Passing her BCPO Exam and all the support she got from friends, family, colleagues….and even YOU…our listeners!!!
Links from our Interview with Joel:
Research:
Smart and Simple Matters:
Value of Simple Stuff:
Start Investing with $100
Social Media Profiles:

If you haven't already, please be sure to go to iTunes to subscribe to the show. Don't forget to leave us a rating & review! Thanks!