We always call what we're on a "journey" because we always seem to be learning new things, paring down to less and less, and finding ourselves in new circumstances along the way. But in the beginning, it sure helps to have a little bit of a roadmap. We've never been the types to tell you "this is what you need to do" or claimed to be "The Expert" in any particular area. Your journey is up to you.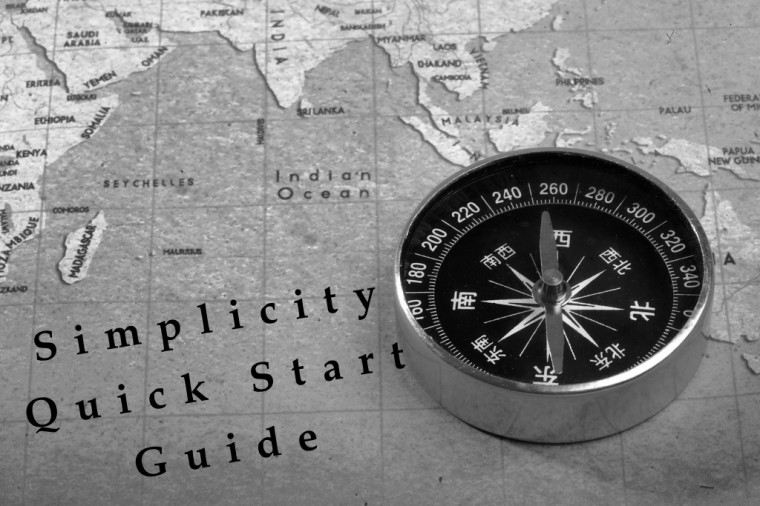 But, it sure is nice to have a general idea in mind, isn't it? So, we wanted this show to serve as a sort of a Simplicity Quick Start Guide for your journey. You know how when you're working on a puzzle you check the cover of the box from time to time to see if you're on track? Well, that's what we hope you do with the episodes listed here. Check them and gauge your progress once in a while. Read more…

Podcast: Play in new window | Download
Subscribe: Apple Podcasts | Android | RSS
Simplicity Quick Start Guide
So we broke our Simplicity Quick Start Guide down into 5 categories and listed some of our most popular topics in each. This way, you can go back and listen to those shows you may have missed, or re-listen to them based upon your simplicity goals. So here are the 5 categories we used:
Part 1: Starting Out…The Decision to Simplify
Part 2: Simplifying Everyday Life:
Part 3: Organizing What You Have:
Part 4: Designing Your Lifestyle:
Part 5: Your Digital Life, Simplified:
Takeaway:
So, there you have it! A great Simplicity Quick Start Guide and the perfect resource to help you get a head start on simplifying your life in the coming year. Why wait for the New Year to make a resolution? Start now and get ahead of the pack.
Question:
So, are you going to get a jump on the New Year and start simplifying now? What are some of your favorite episodes? What did we miss that would make our Simplicity Quick Start Guide more complete?
THING Segment:
Dan's Thing: Road time! Sleeping in the truck & teardrop, Hudson Bay Point blanket, Thoreau's Walden (Librivox.org for..free) , seeds, lemon water and the occasional Tabasco Slim Jim! Had a great 2558 mile road trip so far! Made new friends, visited family, saw old friends (some after 25 years). Enjoyed seeing more of this beautiful country.
Vanessa's Thing: Free kid's Kindle Books from Amazon.com! All the joy of reading for our little girl but none of the clutter…woo hoo!
Announcements:
We'll be taking the month of December off to concentrate on some writing projects! So, you'll have PLENTY of time to catch up on previous episodes of Simple Life Together! Enjoy the holidays!

Consider signing  up on our email list!  If you're not on our email list you're missing out on one or two blog posts we do per week, and the occasional video, too. You can subscribe right here on SimpleLifeTogether.com over on the right side.
 Shownotes:
You can download a PDF of our show prep, too.
Resources and Links:
Photo Credit hmomoy