The number one question we are asked, is about simple living with kids: "Is it possible to simplify your life with kids?" Of course it is! Now we know not everyone has kids, but even if you don't you probably have nephews or nieces, or friends with kids. So, the good news is that even if you don't have kids yourself, you'll probably be able to apply a lot of this to other relationships in your life.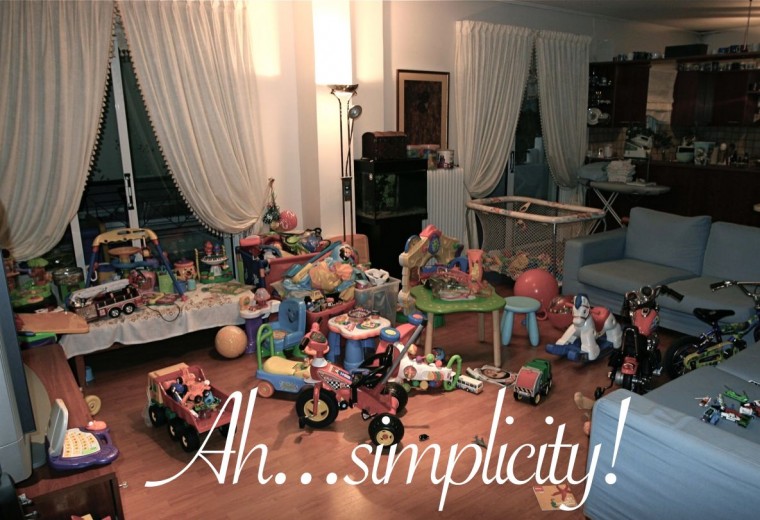 Well first off, simple living with kids doesn't have to be an oxymoron. Like simplifying the rest of your life, simple living with kids will take some planning, work, and positive change, but it will be well worth it. Read more…

Podcast: Play in new window | Download
Subscribe: Apple Podcasts | Android | RSS
Note: Our new book Supermom vs Super Mom will be free on Amazon all day Friday, 21 March 2014 from midnight PST to midnight PST.
Topic: Simple Living With Kids
Well worth it, yes…but notice I didn't say "well worth it in the end." That's because there really isn't an end when it comes to simplicity…that's why we call it a journey.
The "Stuff" Cycle:
Before we get into the different stages of our kids' lives and how that effects simplicity, there's something that needs to be addressed first. I call it the "Stuff Cycle"…for lack of a better term. If you don't realize you operate in a stuff cycle before you have kids, you will as soon as you're expecting. Here's how it goes:
Perceived Need Phase:
All the things advertisements tell you you need
All the things you 'think' you need
All the things everyone else 'thinks' you need and don't hesitate to tell you
Acquire Phase:
Purchase, gift, rent or borrow
Utilization Phase:
You figure out what you really need and use
Replacement Phase
You fill those needs with things that actually work
Edit Phase:
You take action to get the things you don't need, don't use, and don't work out of your life
Refine Phase:
Continuously evaluate, acquire, replace or upgrade as necessary, edit as required.
Simplicity Issues at Different Stages of Our Kids' Lives
Babies:
Just making sure they are cared for requires so much (or we think it does)

Amount of stuff required at home…but babies grow up so fast that it's impossible to use every toy or clothing item 

Amount of stuff required on the road

Time and attention required
Toddlers:
First steps of independence
Just trying to stay ahead or just keep up parents feel they need to buy every learning gadget or tool so they are ahead when they start kindergarten
Kids:
Starting to understand commercials and get a taste for consumerism and wanting more

Brand name toys
Brand name clothes
Even exposure to peer pressure
Teens:
Consumerism: clothing, gadgets, food
More time commitments with extracurricular activity, work, etc.
As parents now it's crunch time to teach them the life skills to be successful adults.
Adults:
Are you responsible or do you hang on to your grown kids' "stuff" as they start their adult life?
Do they feel "entitled" to things beyond their income?
What's your comfort level or threshold for monetary support?
Ways to Keep Simple Living With Kids, Simple!
Toys and Gifts

Family members go overboard (time for a talk)
Birthday parties (manage expectations)
Holidays (manage expectations)
Boundaries

Not every room is the play room (CELF study, Episode 14)

Don't buy more storage for more toys…edit the old to make room for the new…create a boundaries or limit of how many toys your kids can have

Limit screen time

Personal chores (clean up after self)

Family chores (team building, contributing)
Routines and Rituals are key to simple living with kids

They make kids comfortable and let them know what's expected of them
We're creatures of habit…good or bad

Morning

After school routines

Snack

Homework

Dinner clean up and declutter

Holidays

Again, managing expectations of your kids and relatives

Edit before big gift-giving events
Having constant communication with your kids

Reinforcing ideas

Talk about your values regularly

Try to instill valuing experiences over things

Set the example:

Pick up after yourself

Limit your own TV and Internet exposure

Play with your kids

Read to them

Give away and donate things (bring your kids along)

Stick to your guns on your rules, boundaries and routines. 

You've got to use them and hold everyone including yourself accountable
Major Takeaway
Yes, kids provide their own unique spin on simplicity, but just like us it has a lot to do with how you establish norms in your home, how you manage expectations, the example you set, the boundaries you establish, and how effective you are at using the Laws of Learning (Vanessa covered the laws in Episode 13 in the segment called First Steps on the Road to Simplicity). Just like simplifying the rest of your life, simple living with kids will take lots of planning, work, and positive change. But it will be well worth it for you and serve them well in their life too.
Question:
So, how do you simplify life with your kids? What tips or techniques do you use that could help the rest of us? We'd love to know.
 Be sure to leave a comment below.
Thing Segment
Vanessa: Attending the Minimalists meetup, and seeing our friend,  SLT listener and Edit & Forget It member Robin. My main takeaway from Ryan and Joshua was that minimalism looks different for all of us. I also like their take on what they allow or edit in their lives; basically they don't keep anything that doesn't add value to their lives (kind of like our "use it, need it, love it" questions we ask when deciding what to edit from our lives).
Dan: The new Add-Ons function in Google Docs. Provides additional functionality right inside Google Documents and Spreadsheets. In your Drive menu bar you'll notice a new menu option title Add-ons. Click Get Add-ons and explore…you can do mail merge, Avery labels, bibliographies, etc…FREE. For more on Google Docs, check out out our tutorial.
Qs and Comments
Kerry emailed us his story…
Dan and Vanessa,
I couldn't decide whether to write and tell you how much I appreciate your podcast or to share a little bit of my cluttered story… so I will do both.
I am an Air Force officer, having served for 13 years so far. While I haven't moved around as much as you did in your careers, moving forced me to take stock of what I owned and what owned me. I grew up with a lot. My dad was a successful doctor and business owner. When I say we had a lot, that might be understating. Christmas morning was like walking into a Toys R Us. While I certainly appreciated the fact that I was lucky, I never took it for granted and shared a lot with my big family that didn't have as much.
It wasn't until I joined the Air Force and got married that I began to considered how "stuff" made me feel. I realized that I had hoarding tendencies (from my mother) and a desire to simplify (probably from my dad). From the perspective of having moved away, I realized that my Mom was a hoarder with means. That is, she could afford to keep everything. We had multiple vacation homes and each one had a basement or attic packed full. In addition, she had three 20×40′ storage units, all neatly organized but full! My parents divorced around the time I finished college and joined the AF and my mom continued to spend, collect and store. As a few examples, we had every Dept 56 Christmas Village, Halloween Village, Snow Baby, etc ever made. She also framed EVERYTHING! And you don't throw away framed things so she now has, in storage, somewhere between 500 and 1000 framed prints.
The longer I was away from home, the more uncomfortable I was going home. While everything in my mother's home is nice and clean, it's everywhere. I realized she had a problem when I went home for my sister's funeral and actually couldn't set a drink down because every horizontal surface is covered. In the past few years, she has spent and collected herself into near bankruptcy and I still can't get through to her. But… I started my own journey of self-reflection and consideration. I began to realize that it felt good to divest myself of clutter. I am no where near where I hope to end up, but my awareness of "stuff" has been amazing. I was always a person who collected "just because". I had 39 bottles of Marylin Merlot wines because people kept buying them and I didn't know what to do with them. I had every knick knack from childhood stuffed into boxes all over. Most of this stuff (and lots more) is gone. But what I really wanted to do is share with others is that the family aspect can be really hard. My mom and lots of other family members attach so much meaning to stuff that it comes between relationships often. When she visits me and my family, she will load my kids up with toys from the Goodwill. I have asked her not to do this and specifically told her that it makes me stressed and unhappy. But the message isn't received. When she finds out that I get rid of a lot of the things she buys she is upset. In my mind that means stuff is affecting our relationship.
As for my life, I am inspired by what you guys do and say. I connected with Dan's story for a few reasons. I am very techie and a mac guy to boot. I am also into home improvement and woodworking. While you guys have your teardrop, I grew up flying hot air balloons (fourth generation pilot). So I own a balloon and that certainly comes with a lot of stuff. But I do my best to keep things simple. I drive a pickup because the balloon fits in the back, but that means I don't have to own a separate vehicle. Ballooning is my passion and I really enjoy doing it with my family. But if it ever started detracting from life, I would give it up.
So, I have a long way to go, but I am enjoying it. My wife is naturally not a clutterer, but she isn't sold yet on my journey. I choose to share the important lessons that make my life better. Maybe they will sink in. I learned a long time ago that I can't force her to do anything she isn't ready for. Thanks for what you do. I believe it works.
– Kerry
Announcements:
Folks, we need some help over there on Amazon reviewing the book. Again, just go to SimpleLifeTogether.com/supermom to to review the book.As a special incentive, Supermom vs Super Mom will be available for free all day Friday, 21 March 2014 from midnight PST to midnight PST.
I'm working with our friend Joel Zaslofsky of Value of Simple on the SimpleRev simplicity summit.  SimpleRev will be 200+ passionate simple-living advocates. Joshua Becker of Becoming Minimalist will be there, too! To learn more, just go to SimpleRev.com or SimpleLifeTogether.com/rev.

Location: Minneapolis, Minnesota
Date: October 3-4, 2014
Venue: University of St. Thomas Downtown Campus

Joel put together a fantastic page on SimpleRev.com where you can find all your transportation options, lodging, what to do, how to get around…everything a conference attendee would like ask about the area at SimpleRev.com/allittakes.
Special thanks to Chauddog, Turtletruth, and Robinvb1 for the reviews you left for us on iTunes. It really does help people find the show.
If you'd like to leave a review,

just go here on iTunes

and click "View in iTunes", launch iTunes, and then click "Write a Review."
Finally, sign up for the Edit & Forget It Challenge! If you're already on our Edit & Forget It Challenge email list, that's great. If not, you can sign up here.
 Shownotes:
You can download a PDF of our show prep, too.
Resources and Links:
 Photo Credit: Theo B